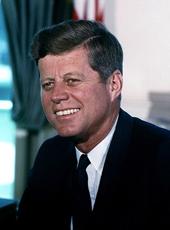 Remarks of Welcome to President Senghor of Senegal at the Washington National Airport
Mr. President, Mr. Prime Minister, members of the Cabinet:
I wish to express our great satisfaction, Mr. President, in welcoming you to Washington.
A famous American once said many years ago that he did not care who wrote his nation's laws as long as he could write this nation's songs. Mr. President, you help write your nation's songs and poems and you also help write your nation's laws. You have been an architect of your country's independence. You have been the poet in the great sense of the aspirations of the people of Africa, and you will come, as you do, to this country, and see millions of men and women who came from Africa to the United States who are building their lives here and making for them a strong place in the American society. They form a valuable link between our country and yours, and your continent.
In addition, you will see millions of other Americans who came from other parts of the world, who came here to build their lives in independence and liberty and fraternity in a free society. So though Senegal and the United States may be separated by thousands of miles, though we occupy different positions and different historical evolutions, nevertheless in a very real sense we wish for the Senegal what you wish for us, which is peace and liberty and national sovereignty, an opportunity to build a better life for your people. So Senegal and the United States, in that very fundamental sense, are sisters under the skin.
Mr. President, we welcome you as the President of your country. We welcome you as a distinguished contributor to the development of Western culture, and I want you to know--and I speak on behalf of all Americans--that you and the members of your government are most welcome for your counsel and your friendship in the crucial year of 1961.
Note: President Senghor responded (through an interpreter) as follows:
"Mr. President, allow me first of all to tell you how deeply touched we are by this welcome, how deeply touched we are to be welcomed by the great Federal Republic of the United States. But if we admire you, we admire you most of all not only for your material power but for your spiritual power. You also were a colony once. We shall never forget your Declaration of Independence. We shall never forget your Declaration of Human Rights. You have indeed carried out the principles of these declarations into the actuality--a great Republic of free men.
"During World War I and World War II the United States fought not only for the freedom of the United States but for the freedom of all the peoples of the world, and we admire you for it.
"Senegal is a small country, but it is a Republic which is inspired by the principles of democracy. We have a parliamentary regime. We have a majority, it is true, but there is also an opposition, and thus the basic rights of the human person are safeguarded. The resemblance's between our two political systems help to explain the friendship between our two nations.
"I am very happy to be among you today. Long live the United States!"
In his opening remarks the President referred to Doudou Thiam, the Minister of Foreign Affairs of Senegal.
John F. Kennedy, Remarks of Welcome to President Senghor of Senegal at the Washington National Airport Online by Gerhard Peters and John T. Woolley, The American Presidency Project https://www.presidency.ucsb.edu/node/235363