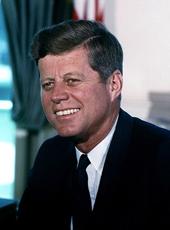 Remarks of Welcome to President Prado of Peru at the Washington National Airport
President and Senora Prado:
I want to express my great pleasure on behalf of the people of the United States in welcoming you here.
History has a strange rhythm. History does repeat itself, even if sometimes in a slightly different form. And it is a striking fact that in 1942 President Prado was one of the first, if not the first, of the democratically elected leaders of the Latin American Republics to visit the United States on an official visit.
The United States was then engaged in war, and yet President Roosevelt wanted President Prado of Peru to come to our country in order to express our appreciation and esteem for him for the leadership which he had taken in this hemisphere in the fight against the Axis.
His strong support in many public forums, his willingness to commit his country to this great struggle, all of these facts are remembered now, as in 1961, nearly 20 years later, President Prado of Peru comes again to the United States on an official visit.
The Presidents are different. The times have changed. The adversaries take a different form. But I believe in a very real sense that both Peru and the United States, still standing shoulder to shoulder, fight for the same things, and that is: a world at peace, a world of law, a world which permits us to develop in our respective countries a better life for our people, which uses the advantages of science to build life instead of to destroy it.
President Prado is the first leader of a Latin American Republic to come to this country in this new administration. The good-neighbor policy has passed into history. We have sought to replace it by a partnership, North and South, an alliance for the progress of our people.
We in this country esteem our friends. We have a long memory, Mr. President. And therefore, standing as I do where 20 years ago my distinguished predecessor stood, I extend to you a warm personal welcome, and I hope in extending this welcome to you that the people of your country will realize that we hold them in the strongest bonds of friendship.
Note: President Prado responded as follows:
I sincerely appreciate, Mr. President, the very warm greetings which you have just extended to me, in which you express the noble sentiments of the American people for Peru.
This is not the first time that I have had the privilege of visiting the United States as the President of my country. I came to Washington initially in 1942 as the guest of my friend, President Roosevelt. I arrived here during the most difficult days of World War II, and I was pleased to bear a message of solidarity from my country.
I return today, almost 20 years later, under circumstances in which we are faced with a new crisis in history. I am in spirit as before, with the same ideals of liberty and respect for human dignity. I am equally moved by a desire to fortify hemisphere solidarity and fraternal relations between the United States and Peru.
I also seek means of closing ground against aggression from abroad, and against infiltration by foreign and disruptive ideologies.
Most of all I want my greeting to the people of the United States to contain a sense of faith in democratic institutions, and an expression of conviction that through the cooperation of the free nations we shall succeed in defeating the attempt at Communist domination, and in turn assure the world a future of peace, justice, and progress.
Mr. President, I want to thank you very much for your noble words about my international policies and for my personal actions in my country, and the international support with your country and the allies in the Second World War; and now in this moment you and your people can be sure that Peru is solidly on your side.
John F. Kennedy, Remarks of Welcome to President Prado of Peru at the Washington National Airport Online by Gerhard Peters and John T. Woolley, The American Presidency Project https://www.presidency.ucsb.edu/node/235631