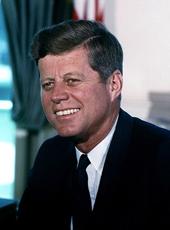 Remarks of Welcome to President Goulart of Brazil at Andrews Air force Base
Mr. President, members of your administration:
It is a great satisfaction to me to welcome you to the United States, to have this opportunity to discuss with you the great opportunities as well as responsibilities which our two countries face in the days ahead in this great hemisphere.
It has been a source of pride to us that the United States was the first country early in the nineteenth century to recognize your country as an independent and sovereign state. And from that time till the present the United States and Brazil have moved hand in hand together--in war as allies during two great struggles for freedom, and in peace in a common effort to build a better life for the people who live in our countries and who live in our hemisphere.
Twenty-six years ago, President Franklin Roosevelt, in visiting Brazil during the administration of President Vargas, committed the United States to a great national and international effort to provide a more prosperous and fruitful life for the people of the Western Hemisphere.
Brazil has attempted, in the years since then, to do that within her own country and within Latin America in Operation Pan America. And we have been attempting together in the Alianza para Progreso in the last 15 months to work together for that effort: to provide housing for our people, education for our children, employment for our workers, security for our older citizens, a better and more secure life for our farmers-to realize in this hemisphere the hope of those who originally came here so many centuries ago.
So, Mr. President, we look to the future and we look to the future with hope, and our hope comes in part because of the leadership that you are giving to your own great country.
We value this visit, and we want you to know that we extend the hand of friendship to you and to the people of your great country who occupy such a position of significance today on the world scene.
Mr. President, you are most welcome!
Note: President Goulart responded (through an interpreter) as follows:
Mr. President:
It is with deep emotion that I am thanking you for the very generous words you have just spoken addressed to the Brazilian Government and addressed to the Brazilian people.
I am very glad to have this opportunity to visit this great and friendly nation, attending your very kind invitation, an invitation which bears witness to the fact that the people of the United States hold the people of Brazil in the very greatest of esteem.
President Kennedy, the people of Brazil still remember with great emotion that momentous meeting of two great Presidents, President Franklin Delano Roosevelt and President Getulio Vargas. And at the time this meeting of those two Presidents consecrated the unity of our two countries in the struggle for the defense of liberty and democracy, and also the peoples who were present in that struggle, as the men of our two countries shed their blood on the battlefield in that defense of democracy and liberty, a feeling which is deeply rooted in the very soul and the consciousness of the Brazilian people.
I am very grateful for this invitation, President Kennedy, and I am bringing to you, together with my own personal greeting, a very warm greeting from the people of Brazil--from the people of Brazil in all walks of life, and they are bringing this greeting to the courageous and extraordinary people of the United States, which are being led with such distinction and such courage and such vision by the competent statesman that is President Kennedy.
It is my hope and my certainty that this visit is going to strengthen ever more the ties that unite our great countries, and that this visit is also served as an incentive for greater friendship and greater understanding among the nations of the Americas.
John F. Kennedy, Remarks of Welcome to President Goulart of Brazil at Andrews Air force Base Online by Gerhard Peters and John T. Woolley, The American Presidency Project https://www.presidency.ucsb.edu/node/236311