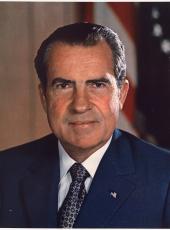 Remarks of Welcome to President Felix Houphouet-Boigny of the Republic of Ivory Coast
Mr. President, and all of our friends from the Ivory Coast, and all of our friends here in Washington, D.C., from the United States:
Mr. President, I am honored to be the fourth American President to welcome you to Washington, D.C., and as you come on this occasion, I am also proud of the fact that both Mrs. Nixon and I have had the opportunity to visit and to know your country, and to know what an exciting country it is from the standpoint of its prospects for the future.
For those in America who do not know Ivory Coast, we can report that you have the highest per capita income in black Africa, you have the highest rate of sustainable growth in that part of the world, and you have established a record for leadership that is known throughout the world. We know that this could not have happened without 'that leadership, because as we look to the secret of progress for Ivory Coast, we find it, first, in its wealth, the wealth in its resources. We find it, second, in its wealth in its people, a hard-working, devoted people who are determined to move forward in the areas of progress. And we find it, third, in leadership, leadership which you have provided since Ivory Coast became a nation, and leadership which has meant stability, which has meant private and free enterprise coming into your country, not to exploit, but to develop for the good of all of the people, and leadership which, above all, has meant peace.
And, Mr. President, on this occasion when we meet, the last point is most important. We realize that fighting has again broken out in the northern part of your continent and in the Mideast, and I think all of our fellow Americans will be interested to note that our distinguished and honored guest today, just this year, received the peace award, the first peace award ever given by the organization which was set up for world peace through law1 And that is why, Mr. President, in addition to talking to our bilateral problems, which incidentally are not very controversial because our relations are excellent and have been for many years, we will today be talking about the problems of how we can create that same period of peace and stability for all of Africa that you have in your country and how, also, working together with other nations who want peace for the whole world, we can contribute to an end to the fighting which is now going on at such terrible cost to both sides in the Mideast.
1President Houphouet-Boigny was presented a special "Man of Peace" award at the Sixth World Conference on World Peace Through Law held August 26-31, 1973, in Abidjan, Republic of Ivory Coast. The conference was held by the World Peace Through Law Center, an organization of jurists, lawyers, legal scholars, and law students from 135 nations.
We look forward to our talks, to get your judgment as to how all nations can contribute to the goal of not simply an end to the fighting which is going on now but to building a new structure of peace in the Mideast, which will give a better hope for avoiding war breaking out as it has over and over again for the past 25 years.
I do not mean that today we will find the answer to that problem that has plagued many administrations here and abroad for a quarter of a century, but I do know that uppermost in our agenda today will be a discussion of those problems with the hope that we can find those common principles which will move toward not only an end to the fighting but building a permanent structure of peace in the Mideast and eventually, of course, throughout the world.
So, Mr. President, I say that we give you a very special welcome today to our country because of your official position, and also because both Mrs. Nixon and I have had the privilege of being welcomed so warmly in your country. And we hope that you will enjoy your stay here, your visit to the West Coast, and will go back with as pleasant memories of the United States as Mrs. Nixon and I have very pleasant and warm memories of Ivory Coast.
Note: The President spoke at 10:46 a.m. on the South Lawn at the White House where President Houphouet-Boigny was given a formal welcome with full military honors. See also Item 288.
President Houphouet-Boigny spoke in French. His remarks were translated by an interpreter as follows:
Mr. President, ladies and gentlemen:
Allow me first of all to express to you in my own name, in the name of my wife, and of my delegation, my deep appreciation for your kind invitation and for the words full of praise you have just had for myself and my delegation. At this privileged moment, I feel deep pride and joy, first of all, because my new visit in your great and beautiful country will permit me to acquaint myself more deeply with one of the more astonishing adventures of modern times, an adventure without which our world of today would be deeply different from what it is with its fascinating diverseness and its bounties.
In the second place, it is because I am about to meet with you for the very first time about problems which matter to both of us, and such exchanges with the prestigious President of the most powerful of all nations cannot fail to show and illustrate our common will, as you have yourself just stressed a moment ago, to foster dialog in peace. And finally, I am deeply convinced that my visit will very happily contribute to a cause dear to us, that of cooperation and friendship between the United States and the Ivory Coast. This cooperation and friendship, which in their traditional cordiality and very large permanence are to us essential features in our foreign relations, can only benefit from the conversations and the meetings--loyal, candid, and frank--that we shall have With you and with the figures that we shall meet here.
I come to you, Mr. President, simply and as a friend to thank you with all my heart in my own name and in that of my wife and express to you the feelings of admiration and confidence placed in you by the people of the Ivory Coast and which through you are addressed to the entire American nation. Long live the United States of America; long live the friendship between our two peoples.
Richard Nixon, Remarks of Welcome to President Felix Houphouet-Boigny of the Republic of Ivory Coast Online by Gerhard Peters and John T. Woolley, The American Presidency Project https://www.presidency.ucsb.edu/node/255339