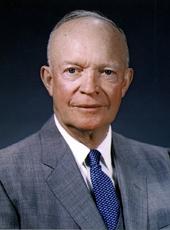 Remarks of Welcome to President de Gaulle of France at the Washington National Airport
President de Gaulle:
It is a very great pleasure for me and for the American people to welcome you here, sir, with Madame de Gaulle, and members of your party.
There has been a long and very special relationship existing between the United States and France. We have shared 200 years of common experiences. We have been devoted to common ideals, and the men of our two countries have shed their blood in common cause.
Through all of these experiences and these adventures, the affection and the admiration of one people for another have never weakened-indeed they have strengthened. And it is a happy circumstance that your visit here today is symbolic of that continuing affection and admiration that these people have one for the other.
It is indeed a happy circumstance that I can welcome you for the first time on this soil not only as President of France but President of the French Community. Our people are just as anxious for the development of those countries under the sponsorship of France as is France itself, and indeed we hope that our ties of friendship with the entire Community will be as strong and as close as have those ties with the people of your country.
And now, finally, may I welcome you more especially personally. I met you first 18 years ago, in the dark days of a world war. From that time on our association has grown ever closer. And I must assure you--as I have assured my own people time and again--that the debt that the cause of freedom owes to General de Gaulle has not only been strong but it is one that is widely understood, appreciated, in this country--as indeed I think it is in all other portions of the free world.
I repeat my welcome on behalf of the American people, and for myself, to a man who in war and peace has proved such a great friend to all of those who love human dignity and are dedicated to the welfare of humans everywhere. We thank you for being here.
Note: President de Gaulle responded (through an interpreter) as follows:
From the bottom of my heart, thank you, Mr. President. Seeing you and listening to you, I feel once more in agreement. Here I am once again in the United States of America. I had not been here for 15 years. This time again on your invitation, that is, the invitation of a dear and illustrious friend. This is another proof that one does not resist President Eisenhower. It is also impossible to resist the powerful stream of events.
A grave international debate is going to take place in 3 weeks. Before joining this debate for France, it was indeed necessary that I converse with the President of the United States. In any case, I feel a deep satisfaction to visit and salute the great American people, dear to my heart and upon whom rests to a very great extent the fate of the entire free world.
Dwight D. Eisenhower, Remarks of Welcome to President de Gaulle of France at the Washington National Airport Online by Gerhard Peters and John T. Woolley, The American Presidency Project https://www.presidency.ucsb.edu/node/234170