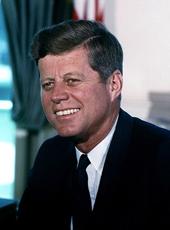 Remarks of Welcome to President Chiari of Panama at the Washington National Airport
Mr. President, Mr. Foreign Minister, members of your government:
I want to welcome you to the United States in very UN-Panamanian weather, and to tell you that in spite of the rain, you are most welcome here.
The first President of the United States to leave these shores during his incumbency was that great destroyer of tradition, Theodore Roosevelt, and the country he went to was Panama. I think this was only one of many historic manifestations of the very vital, as well as close and fraternal, relations which exist between Panama and the United States. We have stood side by side in great wars and in peace, and we are obligated, both Presidents as well as our citizenry, to work in the closest harmony.
We share a responsibility, in a sense, in the Panama Canal to the world, a canal which is of the most vital and historic importance to Panama, and on which so much of our security and the security of the maritime and defense fleets of the free world depend.
These flowers which are of great mutual significance should be occasionally watered by frequent consultation, and I think that it is therefore most appropriate that you should come here. Because we are so dose, because the mutuality of interest exists between us so intimately is all the more reason why we should meet. So I must say, Mr. President, few meetings since my term of office began bear so importantly upon the great interests of this hemisphere. Panama and the United States and the other sister Republics of this hemisphere are joined in a great Alliance for Progress to bring a better life to our people. I know the commitment of the Government and the people of Panama, as well as the commitment of the Government and the people of the United States, so I think we meet at a most important time, and I think this meeting can be most fruitful.
We are particularly glad, therefore, Mr. President, to have you here. And we regard this meeting as one from which significant results can come which can maintain, as well as develop, the cordial relations between our countries and people upon which we both depend. Mr. President, rain or shine, you are most welcome here.
Note: President Chiari responded as follows:
"Mr. President, Secretary of State, distinguished members of this committee:
"Mr. President, I certainly appreciate very much this gracious and warm welcome that you are giving me today here in Washington. I am glad that I had this opportunity of coming over to meet you and to talk to you in a very frank and sincere way about our relations between Panama and the United States due to the Panama Canal being in our country. I believe this is the only way that two nations, really friendly nations, can get together, when they talk and find solutions that are proper for both places.
"Being here in Washington also gave me the opportunity to extend to you a very hearty greeting and to wish you a very secure success in your program of the Alliance for Progress. All the countries in Latin and Central America have great faith in this program that you have yourself taken upon yourself as President of the United States. I believe that in the not very long time the source will be available.
"Mr. President, once again I want to thank you. I want to thank you for this welcome and I want to thank you also in the name of my country of Panama, in the name of my people, for this warm reception that I have received from you. And I hope it will last and be repeated so many times, because I do hope, too, that there will be some time when you can reciprocate this visit; and Panama will be very much honored, and we will be very glad to have you there in my country."
President Kennedy, in his opening words, referred to Galilee Soils, Panama's Minister of foreign Relations.
John F. Kennedy, Remarks of Welcome to President Chiari of Panama at the Washington National Airport Online by Gerhard Peters and John T. Woolley, The American Presidency Project https://www.presidency.ucsb.edu/node/235823