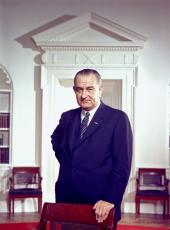 Remarks of Welcome to President Ayub Khan of Pakistan on the South Lawn at the White House
Mr. President:
I am happy, on behalf of the people of the United States, to welcome you once more to our shores.
We Americans have admired Pakistan's rapid progress as a nation, and we have had particular respect for you as the leader who has been chiefly responsible for this great progress over the past 7 years.
It is also a very great satisfaction for me, personally, to have you here with us at this time. I have not forgotten the hospitality which my wife and I received during our visit to Pakistan 4 years ago. It seemed to me then, as it does now, that Pakistan and the United States have very much in common. For one thing, each of our countries began as what most people called "an impractical experiment." No one expected us to survive. Yet here we are.
I remember, most gratefully, how much at home I was made to feel on my visit to your country. I also recall my feelings when you addressed the legislature of my home State back in 1961. Mr. President, I don't know whether you felt equally at home on that occasion, but I remember thinking at the time that you could have had a very great future in American politics.
So we do have, I think, much in common. We have also had our differences. Yet I hope that the bonds which unite us are far stronger than any temporary disagreements.
Both of our nations are dedicated to government by, and for, the people.
Both you and we, each in our own way, are trying--trying so hard to provide a fuller life for all of our people. We, in America, admire Pakistan's efforts to this end, and we have sought to work with them.
We also agree, I know, that the ultimate success of all of our efforts really depends upon the restoration of peace and stability, not only in Asia, but throughout the entire world.
I am quite confident that, working together with the millions of others who share these ideals, we will ultimately reach our goal. I am confident, too, that the discussions which we are about to have will bring us-and the world--one step closer to that common objective.
Mr. President, we are delighted to have you here this morning. We hope you will enjoy your stay in our country, and we certainly want you to know that we warmly welcome you as our friend.
Note: The President spoke at 11:12 a.m. on the South Lawn at the White House, where President Mohammed Ayub Khan was given a formal welcome with full military honors. President Ayub Khan responded as follows:
Mr. President:
I am deeply touched by the warm welcome you have given me and my party, and also for the gracious words you used for the progress that Pakistan has made during the last few years.
May I say that we got our independence after 150 years of British rule 18 years ago, and when I became responsible for running the country, my main concern was to do such things which would improve the living standards of the people and give them hope for a better future.
Now for a country like yours, which started much earlier, perhaps such things are simpler, also simpler perhaps because of your vast resources. But for us, we had to establish the infrastructure of all descriptions to be able to embark on the road to progress.
And I am very happy to be able to tell you that we made considerable progress. And I also would like to take this opportunity of thanking your Government and you, sir, and your people, for the very generous assistance you gave us in these endeavors.
I am very happy to be here again in Washington. It reminds me, first of all, of my last visit when the President, as Vice President, under no obligation on him to waste his time on me, he very kindly, and his lady, took me to the ranch, and the amount of affection and the amount of hospitality they showed, I can never forget in my life and I keep on repeating it to my people in Pakistan. I come here again; I am looking forward to meeting you, sir, and discussing with you our mutual problems, and also to have the opportunity of meeting several other good friends of Pakistan here in Washington and in the United States.
There are several places in the world which are troubled, which are under stress; so is our part of the world. Unfortunately there has been a war, a short war, but a sharp war and bloody war. The peace there hangs on a very thin thread of cease-fire.
I know you are far away, but you, as the greatest country today, have an obligation to the rest of the world, and I have no doubt, sir, that your Government, under your dynamic and powerful leadership, will lend its full support toward the resolution of the problems which are besetting us.
We can't afford wars. We can't afford tensions. Our task is difficult. Our task is to do something for humanity. Our task is to search for peace. And we, in Pakistan, certainly make every endeavor to be able to make our contribution towards peace on honorable and reasonable terms.
Sir, again I thank you once again for a warm welcome, and I am happy to see after your very serious operation you are looking so well and you are regaining your health, and I do hope that you will completely recover soon because the responsibility you hold--not only on behalf of your own people but on behalf of the largest part of the world--is so great that your health is of tremendous importance to us all.
Thank you, sir.
See also Items 649, 650.
Lyndon B. Johnson, Remarks of Welcome to President Ayub Khan of Pakistan on the South Lawn at the White House Online by Gerhard Peters and John T. Woolley, The American Presidency Project https://www.presidency.ucsb.edu/node/240918