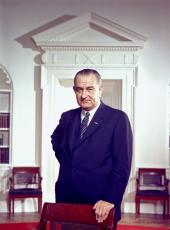 Remarks of Welcome to King Faisal of Saudi Arabia on the South Lawn at the White House
Your Majesty, Ahlan wa Sahlan:
Though the pronunciation of that traditional Arabic greeting may not be fully correct, the warmth of the welcome it conveys is very real and sincere. We have long looked forward to Your Majesty's visit. We are greatly honored and very pleased to have you here today at the White House as our guest.
I know that you are no stranger to our country. You first came to the United States in 1943 as the guest, then, of President Franklin D. Roosevelt at a time when we were deep in a global war to turn back aggression. I am sure that you sensed even in those dark days the dedication of this country and its people to the defense of human rights, to the dignity of the individual, and to the freedom and independence of all countries.
Your Majesty yourself contributed significantly to these principles by your participation in the 1945 San Francisco conference which established the United Nations. Among the many links which our two countries share, we have worked together in that great international organization in the cause of peace and progress in the world.
Since those stirring days, you have visited our country many times and in various capacities. These visits have, I am sure, given you a deep insight into our problems as well as our efforts to surmount those problems. They have also given us the opportunity to draw upon your wisdom and to learn from you.
Your country, under Your Majesty's wise rule, has made great strides forward. Roads, public works, health services, new schools--and new educational opportunities for the young men and women of Saudi Arabia--all these stand as eloquent testimony to your active development efforts.
We have watched these with keen interest and real admiration. We Americans are proud to have played a part in Saudi Arabia's development. From this cooperation, the respect and understanding between our two governments and our two peoples have grown.
Our relations with Saudi Arabia have long been dose and cordial. They have been characterized by friendship, frankness, and a mutual consideration for each other's problems. We are living in a world of change, but we, like you, favor change by peaceful methods. Only thus can the Godgiven talents of all of our citizens be constructively devoted to the arresting challenges which today face mankind.
Your Majesty, we are very delighted to have you here again as the distinguished and much respected and admired leader of a great and friendly country. The American Government and the American people, for whom I speak, extend their hospitality to you. I am confident that you will find it as warm as proverbial Arab hospitality. We look forward, too, to very fruitful exchanges of views these next few days.
As the venerable Arabic saying has it, "Our house is your house." Once again, I extend to you on behalf of all the American people a hearty welcome to our land.
Note: The President spoke at 11:40 a.m. on the South Lawn at the White House, where King Faisal ibn Abd al-Aziz al-Saud was given a formal welcome with full military honors. King Faisal responded as follows:
Your Excellency:
It gives me great pleasure to extend to Your Excellency my profound thanks and gratitude for the good words which you were kind enough to express and which, if they denote anything, they denote Your Excellency's high prestige and what you enjoy in this connection.
While you have said that you have been waiting and looking forward to my visit to your country, I, too, on my behalf, have been looking forward to coming and getting acquainted with Your Excellency for the high prestige which Your Excellency enjoys not only in this country, but in the world as a whole.
We meet with you in what Your Excellency has mentioned about the hopes of creating a world which would be preserved by justice and peace and prosperity.
In a speech Your Excellency delivered last May, you mentioned something that you were looking forward to, a kind of society in which every country respects every other country, and which is covered by justice and peace. I wish to assure Your Excellency that we are quite agreed with Your Excellency in this connection.
At this time, which is swayed by too many currents and too many problems, we are looking forward to a world which will be prevailed upon by liberty, by prosperity, and by amity. Those currents of doctrines have obliged us to defend ourselves for the sake of peace and for the sake of independence and freedom and well-being of the world.
This defense of protection imposes upon us first and foremost the faith in Almighty God. After that, we have to try to follow the best ways to reach with these peoples the way of peace, amity, and cooperation to prosperity.
As Your Excellency has been good enough to mention, I am not a stranger to this country. I have sensed in these people, the American people and their Government, their love and their faith for independence and well-being of the whole world.
Since that very first time of my visit, I have tried and done my very best to make rapprochement between the American people and the other Arab countries. Thanks to God, I have succeeded to a certain extent in this connection. If there is still some strain or tension in some quarters in the Arab-American relations, I am hoping that we will be able eventually to bring together the two in the field of cooperation.
If we follow the way which makes it possible to insure a world of peace which is based on justice and prosperity and the cooperation for all, by the God of grace we will attain our goal.
Your Excellency, you have been good enough to refer to our efforts in connection with developing our country for the welfare of its people. All that we have done we consider not to be sufficient enough for what our people are aspiring to in the field of prosperity, development, and welfare.
But we are going on our way according to our potentialities and possibilities. We faithfully hope that we may reach the goal which is aspired to by ourselves and our people in the shortest of time.
I am pleased, Your Excellency, that myself and my colleagues are to be the guests of Your Excellency and of the friendly people of America.
I reciprocate the wishes expressed on the part of Your Excellency that our coming talks will reach something which will be in the interest of our own two countries and to the world as a whole.
I wish to reiterate my thanks to Your Excellency for what we have found--a good reception and a kind welcome.
Thank you very much.
Lyndon B. Johnson, Remarks of Welcome to King Faisal of Saudi Arabia on the South Lawn at the White House Online by Gerhard Peters and John T. Woolley, The American Presidency Project https://www.presidency.ucsb.edu/node/238683