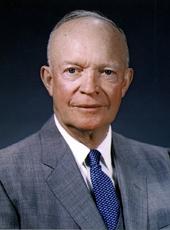 Remarks of Welcome to His Majesty Mohamed V, King of Morocco, at the Washington National Airport
Your Majesty, it is my great pleasure to speak for the American people in welcoming you to this land. It is a particular distinction that I have, because the records show that your nation was one of the very first, in the early days of our existence, to give us the encouragement and moral support of your recognition of us as a nation. In fact, we had not yet established by force of arms our right to be called a nation when your predecessors in Morocco took it upon themselves to urge that our representatives be given all of the dignity and honors of national representatives.
So, as you come here, we hope that you will learn more about us--that we will learn more about you. We do hope that the visit will result in a strengthening of that kind of friendship that began so many years ago in our existence, and which we hope will grow forever stronger.
Again--as I told you, on behalf of all our people, and of myself--welcome to this country!
NOTE: The King replied as follows:
Mr. President, allow me, my great friend, to express to you the joy that I feel in visiting your country for the first time. I have looked forward to this visit to the United States for a very long time. My desire has been realized today at the moment when my country has recovered its independence and is in a position to strengthen, by this visit, those ties of friendship which have bound our two peoples ever since the United States attained its freedom and became an independent nation.
I had, in the past, an opportunity to welcome in my country, the late President Franklin Roosevelt, at the time when Moroccan and American soldiers were fighting side by side for freedom. Since then, relations based on mutual respect and understanding have been established between our two nations. My visit to your country will strengthen those long-standing relationships in the interests of both our peoples.
On this occasion, I should like to convey, on my behalf, and on that of my people, a message of greeting to the people of the United States of America. Your presence here, and the welcome you have accorded us, are a most striking manifestation of the feelings which the American people have for us. I am happy, Mr. President, to express to you once more my thanks for your kind invitation, and for this warm welcome, a welcome which further strengthens our confidence in the future relations between the United States and the Kingdom of Morocco.
Dwight D. Eisenhower, Remarks of Welcome to His Majesty Mohamed V, King of Morocco, at the Washington National Airport Online by Gerhard Peters and John T. Woolley, The American Presidency Project https://www.presidency.ucsb.edu/node/233974