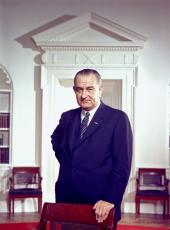 Remarks of Welcome to Chancellor Erhard at Bergstrom Air Force Base, Austin, Texas
Mr. Chancellor, Mr. Foreign Minister, Mr. Secretary of State:
It is with the greatest pleasure that we bid you welcome to the United States and to my home State of Texas--as a good friend, a great European, and as Chancellor of the Federal Republic of Germany.
You have come to a part of our country where there are many Americans whose forebears came from Germany. So while all of us are your friends, there are many who feel a very personal relationship and who look forward to meeting you.
We shall be working hard while you are here, but there will also be time to meet some of our neighbors, to see us as we are, and to join us in a Texas barbecue.
It is our duty in these next 2 days to discuss the great tasks of the future. It is our good fortune to build on the work of great men who have gone before--to begin our labor together in a time when historic dangers have been turned back and hope for the future of freedom has been strengthened.
Two years ago President Kennedy asked me to fly to the beleaguered City of West Berlin to make plain our determination that freedom there could not be strangled by a wall. Today the freedom of West Berlin is more secure than ever. As we meet, Mr. Chancellor, the people of West Berlin for the first time in years are able to cross the wall on errands of simple humanity. Yet the wall itself remains. The guards who man it still shoot to kill. Germany is still divided. There is work to do for freedom in your land.
The United States of America remains committed to the great peaceful purpose of freedom and self-determination for all Germans and for all men everywhere. It was a threat to German freedom which took me to Berlin in 1961. It was hope and confidence in the future of German freedom that brought John Kennedy to his magnificent welcome in Berlin 2 years later. Germans and Americans still stand united against danger and strong in hope.
So in that spirit, Mr Chancellor, we meet today. We have much to do--to strengthen the forces of freedom, to reinforce the Atlantic partnership, to increase our cooperation with all free nations, new and old, and to enlarge the prospect of peace everywhere. In all that we do, we shall act together as the leaders of two free peoples who have proved their friendship with each other in trial and in triumph.
So, Mr. Chancellor, once more let me tell you how happy all Americans are to have you here, and what a very special pleasure it will be for Mrs. Johnson and me to have you as our guest at our home.
Chancellor Erhard: Mr. President, Mr. Secretary of State:
Thank you from the bottom of my heart for the most friendly welcome which you have accorded me here today. My party and I consider it as a privilege during those quiet days of Christmas to be with you in order to follow the message of Christmas and to do everything in our power to deepen and to enlarge the peace all over the world. That is our task.
I am looking forward to this meeting because I think that we have to bring a new hope onto this world, and when I say that I am not only speaking on behalf of Germany, but I am speaking for Europe, which has the great task, in the closest possible association with the United States, to do everything to preserve peace and freedom in this world.
Mr. President, the German people feel closely linked with the United States and the American people. In these times of fast • technology, evil things, but also, unfortunately, good things tend to be forgotten very quickly. But there is one thing which will be never forgotten, and that is the gratefulness which the German people feel, have felt and feel today, towards the United States and everything they did after the Second World War in order to help this beaten Germany, to extend a brotherly hand to the German people, and to let the German people participate again in the benefits of civilization and find peace.
When I say that, I think especially of the Marshall plan, and I often said that the Marshall plan, in fact, was the date of birth of a Europe, the date when the European States that had been caught up in a wrong nationalism again were able to move on to a higher level and to feel that there is a force which is alive in this world, which is borne by the United States, and which gave hope to Europe--hope for a new and better life.
During these last 18 years, the friendship between our two peoples and, in fact, between the statesmen of our two peoples, has grown ever more, and become deeper and deeper. More and more we have realized that there are common tasks for us. More and more we have felt that our faith is a common one, and we in Germany know that peace and freedom are indivisible. They are not only indivisible insofar as the fears of life of the individual peoples are concerned, but peace and freedom are indivisible insofar as the cohesion of the free world altogether is concerned.
You, Mr. President, in one of the darkest and most worrisome hours, have given hope and courage and confidence to the people of Berlin, and this deed, Mr. President, will never be forgotten, in the same way as the hearts of the Berliners opened up to the late President Kennedy. We, too, in some way, are starting our work from the same position. We are called upon to carry on a great heritage and to fructify that heritage. That is the sense of this meeting: that we, you, Mr. President, and I, myself, should come into close human contact so as to have the confidence which exists between our two peoples deeply rooted in our two persons, and the friendship which has borne such rich fruit during the past years, and which has brought peace and freedom to the world, and very particularly to Germany, this friendship gives us the firm hope that the right of self-determination of peoples will also one day be applied to the German people, and that the hour of freedom for all Berlin will come. May that be the fruit of our common work. We want to work hard, Mr. President, but it is a fine piece of work which we have before us. I am especially glad to have this opportunity.
I would like to say particularly to Mrs. Johnson that we have today the great honor of being received as your guests in your home.
Again, Mr. President, let me tell you of all the satisfaction and pleasure which I feel, that we have so soon an opportunity of meeting, and the hope which I have that this meeting will be a fruitful one.
THE PRESIDENT On behalf of all of us, I want to say to the Governor, Senator Yarborough, Congressman Pickle, the distinguished Mayor, and all the good people of Austin, we thank you so much for your warm hospitality.
We will now go back to the hills to proceed with our discussions. We thank you from the bottom of our hearts for your warmth, and we ask for your prayers in the days ahead.
Note: The President spoke at 10:15 a.m. His opening words referred to Dr. Ludwig Erhard, Chancellor of the Federal Republic of Germany, Foreign Minister Gerhard Schroder, and Secretary of State Dean Rusk. In his closing remarks the President referred to Governor John B. Connally, Senator Ralph Yarborough, and Representative J. J. Pickle, all of Texas, and Mayor Lester Palmer of Austin.
Lyndon B. Johnson, Remarks of Welcome to Chancellor Erhard at Bergstrom Air Force Base, Austin, Texas Online by Gerhard Peters and John T. Woolley, The American Presidency Project https://www.presidency.ucsb.edu/node/241927