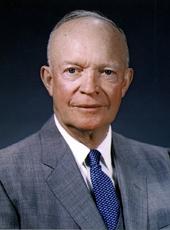 Remarks of Welcome to Chairman Khrushchev of the U.S.S.R. at Andrews Air Force Base
Mr. Chairman:
I welcome you, your family and party to the United States. I am especially happy that Mrs. Khrushchev and other members of your family are accompanying you. On behalf of the Government and of the people of America, I express the hope that you and they will find your stay among us interesting and useful.
I am looking forward to the talks we will have together. Although we shall not be negotiating any issues affecting the interests of other countries, I trust that a full and frank exchange of views on many subjects may contribute to better understanding, on both sides, of unresolved international problems.
During your stay here you will have an opportunity to see something of our country, our institutions, our customs, and our people. You will have a chance to speak with individuals and groups from all walks of life.
The political and social systems of our two countries differ greatly. In our system the people themselves establish and control the Government. You will find, I am sure, that they, like your people, want to live in peace with justice. Although they have built and maintain strong security forces, it is clear that because our people do want peace and because they are the decisive influence in basic actions of our Government, aggression by this Nation is an impossibility.
Just as I hope that I may later visit and learn more about your people, I know that you seek better understanding of our system, of our people, and of the principles which guide and motivate them. I assure you that they have no ill will toward any other people, that they covet no territory, no additional power. Nor do they seek to interfere in the internal affairs of any other nation.
I most sincerely hope that as you come to see and believe these truths about our people there will develop an improved basis on which we can together consider the problems that divide us.
After all, our common purpose should be, always, a just, universal and enduring peace. It is in this spirit, Mr. Chairman, that I greet you and welcome you to Washington and the United States.
Note: Chairman Khrushchev's remarks, as published in the Department of State Bulletin (vol. 41, p. 476), follow:
Mr. President, ladies and gentlemen:
Permit me at this moment, on first setting foot on American soil, to thank Mr. Eisenhower for the invitation to visit your country and everyone present for the warm welcome accorded us, representatives of the Soviet Union.
Russians say: "Every good job should be started in the morning." Our flight began in Moscow this morning, and we are glad that our first meeting with you on American soil is taking place on the morning of the same day. As you see, our countries are not so distant from each other.
I accepted the invitation of the President of the United States to make an official visit to your country with great pleasure and gratitude, and I will be glad to talk with statesmen, representatives of the business world, intellectuals, workers, and farmers and to become familiar with the life of the industrious and enterprising American people.
For our part, we will be glad to receive Mr. Eisenhower, his family, and those who will accompany him in the Soviet Union shortly. We will give the President a most cordial welcome and every opportunity to become familiar with the life of the Soviet people.
We have always considered reciprocal visits and meetings of representatives of states useful. Meetings and conversations between the statesmen of our two great countries, the Soviet Union and the United States of America, are especially important.
All the peoples are profoundly interested in the maintenance and consolidation of peace, in peaceful coexistence. War does not promise anyone any good; peace is advantageous to all the nations. This is the basic principle which, we believe, the statesmen of all countries should be guided by in order to realize the aspirations of the peoples.
We have come to you with an open heart and good intentions. The Soviet people want to live in friendship with the American people. There are no obstacles to having the relations between our countries develop as relations between good neighbors. The Soviet and the American people, like other peoples, fought well together in the Second World War against the common enemy and broke his backbone. In peaceful conditions we have even more reason and more possibilities for friendship and for cooperation between the peoples of our countries.
Shortly before our meeting you, Mr. President, the Soviet scientists, engineers, technicians, and workers filled our hearts with joy by launching the rocket to the moon. Thus has been blazed a road from the earth to the moon; and a container of 390 kilograms with a pennant bearing the national emblem of the Soviet Union is now on the moon. Our earth lost several hundred kilograms in weight, and the moon gained in her weight the same amount of kilograms. I am sure that in this historic achievement of peaceful science rejoice not the Soviet people alone but also all those to whom peace and friendship among nations are dear.
Recently an atomic icebreaker has been completed in the Soviet Union. This practical embodiment of the desire of all peoples to see the nuclear energy put solely to peaceful use makes us happy. We are aware, Mr. President, that the idea of peaceful use of atomic energy is dear to you, and we note with gratification that your aims in this field coincide with OURS.
We entertain no doubt that the splendid scientists, engineers, and workers of the United States of America, who are engaged in the field of conquering the cosmos, will also carry their pennant to the moon. The Soviet pennant, as an old resident of the moon, will welcome your pennant and they will live there together in peace and friendship, as we both should live together on the earth, in peace and friendship, as should live in peace and friendship all peoples who inhabit our common mother earth, who so generously gives us her gifts.
During these first few minutes of my stay in the United States permit me to extend hearty greetings and best wishes to the American people.
Dwight D. Eisenhower, Remarks of Welcome to Chairman Khrushchev of the U.S.S.R. at Andrews Air Force Base Online by Gerhard Peters and John T. Woolley, The American Presidency Project https://www.presidency.ucsb.edu/node/234202