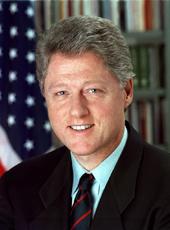 Remarks to Victims of the Bombing in Omagh, Northern Ireland
Thank you very much. Mr. Prime Minister, Mrs. Blair, Secretary Mowlam, Ambassador Lader, Senator Mitchell; to the people of Omagh. Hillary and I are honored to be in your presence. We come to tell you that, a long way away, the American people have mourned the loss of 28 innocents and all those who were injured. For those victims and family members who have come here today to say a word to us, we thank you for your presence.
To all of you, we thank you for standing up in the face of such a soul-searing loss and restating your determination to walk the road of peace.
We came here, knowing, as the Prime Minister said, that words are not very good at a time like this, simply to express our sympathy with the good people of this community, especially with the victims and their families, and again to support your determined refusal to let a cowardly crime rob you of the future you have chosen.
What happened here on August 15th was so incredibly unreasonable, so shocking to the conscience of every decent person in this land, that it has perversely had exactly the reverse impact that the people who perpetrated this act intended. By killing Catholics and Protestants, young and old, men, women, and children, even those about to be born, people from Northern Ireland, the Irish Republic, and abroad—by doing all that in an aftermath of what the people have voted for in Northern Ireland, it galvanized, strengthened, and humanized the impulse to peace.
Even more than when we were here 3 years ago, people are saying to me: "It's high time that the few stop ruining the lives of the many; high time that those who hate stop bullying those who hope; high time to stop the lilt of laughter and language being drowned out by bombs and guns and sirens; high time to stop yesterday's nightmares from killing tomorrow's dreams."
All I wanted to say today is that nothing any of us can say will erase the pain that those of you who have experienced loss know now. Just a few days ago, we had to—Hillary and I did—go to the airport to meet the plane bringing home the bodies of the Americans who were killed in the Embassy bombing in Africa, and to go from table to table to meet their families. There is no word to explain a mindless act of terror that grabs the life of an innocent. But I think the only way to truly redeem such a terrible loss is to make the memories of the innocents monuments to peace. We cannot brook a descent into terror. Northern Ireland is walking away from it. Life will never be the same here, but it will go on.
Since the bombings, one of the victims, Nicola Emory, has given birth to a healthy baby. I pray that baby will never know an act of terror and will live a long, full life in the 21st century, proud of a hometown that learned, through tragedy, the meaning of community.
I'd like to close my remarks by reading to you from a letter that our Ambassador in Dublin received from a young man named Michael Gallagher from County Mayo after this happened. He wrote to the American Ambassador: "You don't know me. You may not even get this letter. But after yesterday's tragedy, I just wanted to do something. I am 29 years old, an Irishman to the very core of my being. But throughout my life, there has never been peace on this island. I never realized how precious peace could be until my wife, Martina, gave birth to our daughter, Ashleen, 20 months ago. We don't want her to grow up in a society that is constantly waiting for the next atrocity, the next bunch of young lives snuffed out in a sea of hatred and fear. Ashleen's name means 'vision' or 'dream,' and we have a dream of what Ireland might be like when she grows up. It could be a place where dreams come true, where people would achieve things never imagined before, where people would not be afraid of their neighbors. Hopefully, this can happen. But after yesterday, one has to wonder. We know America has done much for Ireland. All we ask is that you keep trying, even when times are hard. Please keep Ireland in mind because Ashleen and all Irish children need to be able to dream."
So we came here today to say we grieve for your loss, but to pledge to that little Ashleen in Mayo and Nicola's newborn here in Omagh that we will work to build this peace, to make it a place where children can dream, to redeem the loss of innocence from the madness of people who must fail so that your life can go on.
Thank you for letting us come here, and God bless you.
NOTE: The President spoke at 4:05 p.m. at the Leisure Center. In his remarks, he referred to Prime Minister Tony Blair of the United Kingdom and his wife, Cherie; United Kingdom Secretary of State for Northern Ireland Marjorie (Mo) Mowlam; Philip Lader, U.S. Ambassador to the United Kingdom; and former Senator George J. Mitchell, independent chairman of the multiparty talks in Northern Ireland.
William J. Clinton, Remarks to Victims of the Bombing in Omagh, Northern Ireland Online by Gerhard Peters and John T. Woolley, The American Presidency Project https://www.presidency.ucsb.edu/node/224854