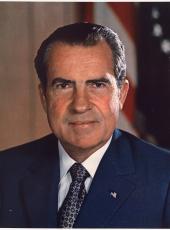 Remarks of Vice President Richard M. Nixon, Rock County Airport, Rock County, WI
Vice President NIXON. Thank you. Thank you very much, Buzz. And may I say also thank you to all of you who have come to greet us on this occasion.
As we were riding into the airport here I saw these cars parked so many, many blocks away and I saw people coming along carrying youngsters, with rain coming down and I realize really what an effort it is for you folks to drive so far to get up early in the morning and drive so far and then to come to the airport and for your inconvenience, for the effort that you have made, believe me, Pat and I deeply appreciate it.
I can only say that when you will make this kind of an effort to come greet us at an airport we say that things look good on November 8 for our Republican candidates in the State of Wisconsin. [Applause.]
I am delighted to have the opportunity to be introduced by Buzz Kean, our candidate for Governor and as I know his record as I have known him through the years, I think that we have here a young man, young in years at least, but a man with all the vitality and the vigor that will give to this great State a splendid administration and I think he is going to be heard from outside of Wisconsin as well as in Wisconsin, and we really need him as your Governor, and I am glad to say this word for him as I visit with his friends and neighbors here in the State of Wisconsin. [Applause.]
I am also very happy to have an opportunity to speak in behalf of our other Republican candidates, our candidate for Congress, Henry Shatterberg, and to urge your consideration and support of them.
I say this because I did believe that these men not only are candidates for the Congress but those for the State assembly and the State legislature, that they are the men who can give you the kind of government you want, the best kind of government, the best for yourselves and looking to the future, for your children, and so I come here knowing that perhaps most of you came to see Pat and me, but urging you that at a time when you naturally can get very excited about a presidential campaign do not forget that government that you have at the State level and the local level is just as important and work just as hard for the candidates there as you do for us, and we will be very happy and you will be the better off for it, too. [Applause.]
And now with the weather apparently closing in, I would like to say just a few words with regard to the issues of this campaign, what I think they mean to you, what I think they mean to the Nation and to the world.
All of you are aware of the fact that when we elect a President of the United States, think of considerations away beyond our own selfish interests. I mean by that that naturally we are concerned when we elect a President about how the Government's policies in Washington are going to affect our community and our State, how they are going to affect our family, how they are going to affect our jobs.
We are also concerned, however, by other things.
We are concerned about our country and its future, and I suppose the reason that when we elect a President we think in terms of the country and its future that we are really thinking of our children, the opportunity that they have for a better life than what we have had, and I want to tell you today that the first thing that we particularly want to bring home to the people of America is that we are tremendously proud of the record of our administration, and certainly all Americans were proud of President Eisenhower yesterday as he represented us so magnificently at the United Nations with Mr. Khrushchev in the audience.
We are proud of the fact that he has brought such magnificent dignity and stature to the office of the Presidency. We are proud of the fact, too, that he has given us government that has resulted in a progress that has been unsurpassed in any 8-year period in history, but above all I think that Americans are grateful and will be grateful to him for the fact that he ended a war in which we were participating and that we have been kept out of other wars and that we have peace without surrender today.
And what I want to tell you is that I believe that the major responsibility of the next President in addition to his general responsibilities to see that America continues to progress in every field, the major responsibility is to be sure that America is able to keep the peace, keep it without surrender and extend freedom so that these young people here who are before us in this band will always wear the uniforms of peace and will not have to wear the uniforms of war.
This is the greatest pledge that we can make by a President of the United States. [Applause.]
With the rain coming down I cannot, of course, discuss these issues in detail but I just want to say this: I think I know something about the problems of the world and particularly I think I know something about the reactions of those who threaten the peace of the world, Mr. Khrushchev and his colleagues.
I know that these years ahead are going to take the strongest military power that the world has ever seen, that we must have that and we intend to maintain it.
I know that our economy must continue to move forward and I know also that if we are to have peace we must be firm, we must never make a concession to them without getting a concession in return. We must always stand for not only our own freedom but for the right of other people to be free because only with this kind of a policy can we really keep the peace.
And a policy of weakness, one that assumes that men like Mr. Khrushchev would react like other leaders in the world who are not Communists, is one that would not lead to peace but it would lead to the very things that we do not want.
So my friends I say to you that together with my colleague Cabot Lodge, who has done such a splendid job of representing the cause of peace and freedom at the United Nations, we shall if you give us the opportunity stand for a strong America, for an America of progress in all areas, but above all, an America in which our children can grow up in peace and in freedom. We believe we have the program. We believe we have the experience which can provide that kind of leadership and if you agree with us we ask you in this great key State of Wisconsin, always a battleground as we know a battleground in primaries, a battleground in final contests - we ask you to go out and work just as hard as you possibly can and while the weather may be a little bad here let us be sure that the political weather on November 8 is good and that means a vote for the Republican candidates right down the line.
Thank you very much. [Applause.]
Richard Nixon, Remarks of Vice President Richard M. Nixon, Rock County Airport, Rock County, WI Online by Gerhard Peters and John T. Woolley, The American Presidency Project https://www.presidency.ucsb.edu/node/274139