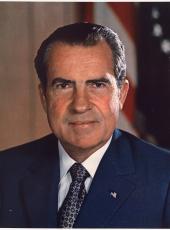 Remarks of Vice President Nixon, Bridgeport Airport, Bridgeport, CT
Vice President NIXON. Thank you. Thank you very much, Pres Bush. I want to say first that we want to thank you for coming out and seeing us off as we fly on to Buffalo, N.Y. We didn't actually expect this crowd at the airport, but apparently the town of Stratford was going to have a meeting, so here it is and we do thank you for it. [Applause.] And for all of you who helped to plan it, but particularly for those of you who took the time and trouble to come out, park, and come out and greet us, we certainly want to express our appreciation.
And, Tony, are you the only congressional candidate left here now? Fine, now let's be sure Tony gets elected back to the Congress, huh, hoe about it? Tony Sadlack. [Applause.]
As you know, I've been speaking at three different meetings this morning. Our plane leaves very shortly, but there is this much I want to say to you.
As I look over the crowds all day long, the thing that really stands out above everything else is the number of young people in the crowds, parents bring their children out, the schools are let out so that we can have a chance to see them and they, of course, see somebody who might be elected, but as we go along what certainly impresses the candidate is the tremendous responsibility you have to the future of this country. This is a very great country and we're very fortunate to live here, and certainly all of us want this country to continue to grow, to continue to develop so that our children can have an even better life than we have. But above all, we want them to grow up in a world of peace, in a world with freedom, and to understand what that means all you have to do is travel abroad and see people who don't have it. Go to the Soviet Union as we have, to Siberia, to the Urals, go to Poland as we have, and see the faces of people, go to the Austrian border as I did, and see the hungarian refugees come across the border at great risk, hundreds of thousands of them, or go to the other side of the world as we have to Indochina Vietnamese crying to get away from the Communists, Koreans moving from North to South, East Germans going to the West.
With all of the talk these days about America being second class and second rate and our prestige going down, of all of these talks about the Communists making gains, let's never forget this: That whenever people have a chance to choose, a chance to vote by their fiat, they vote for freedom. That's why we're going to win the struggle of the world and why our children are going to grow up in a world of freedom. [Applause.]
And we pledge to you to keep this country strong, to see that our children do have these opportunities that we all want for them for a better life, but above all to give the leadership that will make everybody proud of America, proud of what we stand for in the world, and proud of the ideals that we came into the world to preserve and that it is our destiny to extend to all the world.
So thank you very much, and we again thank you for giving us a wonderful sendoff at the end of a great day of campaigning in Connecticut.
Remember, we need your votes on election day, so work as you never have before. Thank you. [Applause.]
Richard Nixon, Remarks of Vice President Nixon, Bridgeport Airport, Bridgeport, CT Online by Gerhard Peters and John T. Woolley, The American Presidency Project https://www.presidency.ucsb.edu/node/273985