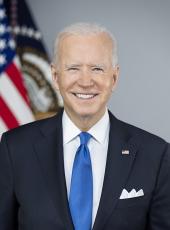 Remarks by Vice President Joe Biden at a Veterans Roundtable Event in Tampa, Florida
As prepared for delivery.
Thank you, DeSheun, Sergeant. Thank you for your years of service, and thank you for your continued commitment to supporting our student veterans as they pursue their educations.
And thank you to Hillsborough Community College for hosting us today.
My wife Jill is a community college professor, so I've known for a long time that community colleges are the secret weapon of our educational system — and this is just one of the reasons why.
You help people take the next step in their lives to get the training and credentialing they need. Including our vets who after years of dedication to our country are ready to build civilian lives of meaning and opportunity.
Less than one percent of the population make the choice to serve our country.
Less than one percent risks everything to defend our nation, our values, everything we hold dear — and the other 99 percent of us — we owe them.
We owe them our thanks, our gratitude, our respect.
President Trump has proven his unfitness to hold the office of the presidency time and again. But nowhere are his faults more glaring –more offensive – than when it comes to his denigration of our service members, veterans, wounded warriors and the fallen.
It makes my blood boil – the way he gets in front of a camera and crows about how much he's done for our vets and then turns around and insults our service members and fallen heroes when the cameras are off.
Calls them "suckers" and "losers."
My son Beau, who volunteered to go to Iraq and came home with the Bronze Star, was not a sucker.
The men and women who served with him are not suckers. And the service men and women he served with – who did not come home – are not losers. They're heroes.
It's a disgrace.
Donald Trump has no idea about the ideas that animate the women and men who sign up to serve: Duty. Honor. Country.
That's what service and patriotism is all about.
He reportedly said to the father of a fallen service member, "I don't get it, what was in it for them?"
What was in it for them?
Donald Trump cannot conceive of the idea of selfless service. Of being part of a cause bigger than yourself.
Every day I carry with me a card – it has on it the latest available information of how many troops have been killed and wounded in Iraq and Afghanistan. How many individuals have given "the last full measure of devotion."
6,923 have been killed — each of them a fallen angel. And 53,192 wounded, with tens of thousands more coming home with unseen injuries and mental health challenges.
As a nation we have many obligations. But I believe that we have only one truly sacred obligation: To prepare and equip our troops we send into harm's way. And to care for them and their families when they return home.
We owe our veterans the future of security and dignity that they have earned.
It starts by protecting the VA, and restoring trust in it, because the VA must be the premier provider of healthcare and services to promote our veterans' overall well-being.
And here's why: The VA has more specialized knowledge about how to treat veterans' unique health needs, both physical and mental, than the private sector, by far.
It provides a community of understanding and support.
And it facilitates accountability for the veteran's health and well-being as a whole that is absolutely vital for successful outcomes.
We have a responsibility to ensure that we're providing veterans with the world-class health care they deserve in every situation.
That means hiring more doctors and medical professionals to work at the VA – including positions essential to veteran healthcare – nurses, and psychologists.
We need to offer these medical professionals the incentives to join the VA and we need to pay them competitive salaries.
But we also have to do more to build the pipeline of doctors and nurses, especially in rural areas.
If you live far away from a VA Center, it's absolutely essential that you can see a doctor closer to home.
That's why President Obama signed the VA Access, Choice, and Accountability Act into law
in 2014.
President Trump likes to say he passed VA Choice — but it's just a flat lie.
Now, we need to keep working to implement the MISSION Act effectively so that it works for all our veterans, while always making sure community care providers are held to the same high-quality care standards as VA centers.
We are going to make sure our women veterans, and our LGBTQ+ veterans, get the services and respect they deserve from culturally competent providers.
And critically, we're going to make sure that no veteran is locked out of treatment for conditions related to toxic exposures from burn pits or elsewhere or traumatic brain injuries they experienced in the line of duty.
We made that mistake with Agent Orange. I fought for decades to help our Vietnam Vets get access to help and we were able to expand on it during the Obama-Biden Administration.
We can't do that again. Delaying access because the Vet could not prove a direct connection – if you were exposed to Agent Orange, it is presumed it caused the damage.
And we've got to seriously tackle the mental health crises and the suicide epidemic that is claiming far too many of our veterans and service members.
The latest data suggests that almost 600 veterans are dying by suicide every year just here in Florida.
It's devastating.
There aren't any easy answers to this, but we can do better than we're doing now. We have to.
We have to help our heroes understand that it's honorable and takes strength to reach out
and ask for help if they're suffering from unseen wounds.
We have to end the stigma around mental health treatment.
And when they do reach out – When they call a crisis hotline, or walk into a VA hospital, or visit a Vet Center for counseling— we have to make damn sure that no one turns them away or tells them to wait.
Part of it is also making sure our veterans feel a sense of security and connection and mission in the civilian world – as they did on active duty.
Better employment opportunities. Meaningful career-trajectories. Educations, like the ones our student vets get here at Hillsborough Community College, which translate into greater opportunities for our vets– not just put money in the pockets of for-profit fraudsters.
It all matters.
And it especially matters how their families are treated. There's a John Milton poem that I like that says, "they also serve who only stand and wait."
Well, military families serve every single day.
Attending to their specific needs and unique challenges should never be an afterthought. It is a national security imperative.
Fulfilling our promises to our veterans and military families, caregivers and survivors is critical to ensuring that future generations continue to volunteer to serve.
My wife Jill – she's worked on this more than anyone. During our administration, she and Michelle Obama teamed up on Joining Forces — a nationwide initiative to drive concrete commitments to support service members, veterans, their families, caregivers and survivors.
They helped make sure teachers are equipped to better meet the needs of military children in their classrooms, and helped bring down some of the barriers that make it harder for military spouses to find good jobs and build their careers – working with leaders like Lauren Weiner and "Hiring Our Heroes", and the Military Spouse Employment program.
For example, making it easier to carry your professional credentials with you from one state to another when you move.
A Biden-Harris Administration will relaunch that effort and keep pushing further to make it easier for military spouses and veterans to find meaningful careers, to ensure teachers know how to support military children in their classrooms, to improve support for caregivers and survivors, and so much more.
This isn't a theoretical commitment to us. It's personal.
The year that Beau deployed to Iraq with his National Guard unit, that's when Jill and I learned what it really means to be part of a military family.
To pray every night and morning for the safety of your child far from home facing unknown dangers.
Every family gathering they miss. Every time their children ask why mommy or daddy isn't there to tuck them in — it hurts.
These are challenges most Americans never have to face.
And these women and men, their families, they are the absolute best that our country has to offer.
And some of the most meaningful moments of my Vice Presidency were hosting Thanksgiving meals for veterans at the Vice President's residence and spending Christmas Day visiting the patients at Walter Reed hospital.
I've spent time with our wounded warriors in trauma centers all across the country and around the world – and do you know what the message I heard most was?
"Sir, I want to go back. I want to get back to my unit."
Does that sound like the heart, the grit, the patriotism of 'suckers' and 'losers' to you?
It sounds like heroism to me.
Our military is the greatest fighting force in the history of the world.
They deserve a commander in chief who respects their sacrifice, understands their service, and will never betray the values they defend.
They deserve better than Donald Trump. And if I have the honor of serving as the next commander in chief, I want every single member of our armed forces – our veterans, their families, their caregivers –and their survivors to know:
I will never treat you with anything less than the honor you deserve. And I will have your back — always.
Thank you, and may God protect our troops.
Joseph R. Biden, Remarks by Vice President Joe Biden at a Veterans Roundtable Event in Tampa, Florida Online by Gerhard Peters and John T. Woolley, The American Presidency Project https://www.presidency.ucsb.edu/node/345122