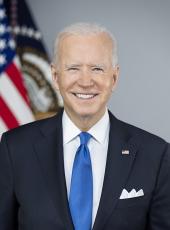 Remarks by Vice President Joe Biden in Pembroke Pines, Florida
[As prepared for delivery]
Hello, Florida!
Thank you, Congresswoman Wasserman Schultz for your tireless leadership for the people of the 23rd district.
Toby, I want to thank you for that kind introduction.
It's wonderful to be here with you all, to hear your stories, and to talk about how we're going to get through these difficult times.
Toby's story is a familiar one here in South Florida: we're all living some version of it right now, with some of the most important parts of our lives put on hold.
It's the same story being lived by people like Carl Schechter, who many of you know well.
Carl's here today 93 years old — and a pillar of this community, so much so that, a few years back they renamed this community center in his honor.
I had the pleasure of meeting Carl back in 2012, and his story is what this community and this country are all about.
The son of an immigrant, Carl served our nation honorably in the Second World War.
He met his sweetheart Anita. They've been married for 67 years.
Together they built a family, four children and seven grandchildren, and for more than 30 years, they've made a home here, staying engaged with local issues, and holding local office. Catching Sunday matinees at the performing arts center, socializing with neighbors, and enjoying nights out on the town two or three times a week.
But their story, like so many quintessential American stories, was interrupted this year.
Carl and Anita haven't been out to a restaurant in seven months. There are no more Sunday matinees.
Other than getting groceries, they spend most of their time in their apartment, and it's harder than ever to spend time with the people they love.
We've all felt that sense of interruption in our lives, and we all know that this isn't normal, that things didn't have to be this bad.
We look around at our neighbors and we know people are hurting.
A lot of folks are worried about making their next rent or mortgage payment, whether or not they can purchase their prescription or put food on the table.
They see the people at the very top doing better than ever while they're left to wonder — "who's looking out for me?"
That's been the entire story of Donald Trump's presidency.
The fact is, he's never been focused on what matters. He's never been focused on you.
His handling of this pandemic has been erratic — like his entire presidency.
And it has prevented Florida's seniors and people all across the country from getting the relief they need.
Donald Trump just hasn't been willing to do the work. He doesn't care to deliver real help to our seniors.
While you're losing precious time with your loved ones, he's been stuck in the sand trap on his golf courses.
And when he does decide to lift a finger, it isn't to help you. It's to propose new tax cuts for billionaires.
We know what happened the last time he passed a tax bill in 2017.
Pharmaceutical companies got billions of dollars in tax breaks, and then they turned around and raised prices on medicines you rely on to stay healthy.
And they're still doing it, even during the pandemic. It's unconscionable.
But Donald Trump doesn't really care about lowering your health care costs because he is beholden to the health insurance companies and the drug companies.
After all, he's asking the U.S. Supreme Court right now to strike down the entire Affordable Care Act, which would eliminate seniors' ability to get recommended preventive services like annual check-ups and mammograms for free under Medicare.
And raise prescription drug prices for millions of seniors, and put the Medicare Trust Fund at risk.
He's even pledged to "terminate" the tax that is dedicated to financing Social Security.
The Social Security Actuary says it could bankrupt Social Security in just a few years — putting at risk the monthly checks tens of millions of seniors rely on.
All this president knows how to do is play games with people's lives and families' futures.
Last week he announced he was walking away from negotiations that he was never fully engaged in to provide any additional relief for American families.
He's turned his back on the small businesses that are struggling to keep their doors open.
He's turned his back on the firefighters and police officers and other first responders who depend on state and local government budgets that are strained to the breaking point.
He's turned his back on educators and school children, standing in the way of support to get the PPE and cleaning supplies and ventilation needed to safely reopen schools.
He's turned his back on every single worker whose job hasn't come back, and now he says he wants a deal.
One day, he's tweeting that the relief package is too big. The next day it's too small.
It's a game to him — a political game.
His latest gimmick: he wants to mail seniors these $200 prescription drug cash cards, with his name on them, of course, just before Election Day.
But he's going to raid the Medicare Trust Fund to pay for them, which seniors have spent decades paying into.
He thinks he can take money out of your pocket, hand it back to you with his name stamped on it, and call it a gift.
It's dishonest, it's reckless, and it doesn't actually help anybody.
In fact, all he'll do is undermine the Medicare Trust Fund and increase overall out-of-pocket costs for seniors.
Let's be clear about this: Donald Trump has had almost four years to lower drug prices and he didn't do it.
In fact, the House of Representatives passed a bill that would bring down prescription drug costs across the board by giving Medicare the power to negotiate lower drug prices, which I've been pushing for years.
And what did President Trump do? He threatened to veto it.
Folks, Donald Trump's chaotic, divisive leadership has cost us far too much.
215,000 dead because of COVID-19. Experts say we'll lose nearly another 200,000 lives in the next few months.
So many lives have been lost unnecessarily because this President cares more about the stock market than he does about the wellbeing of seniors.
One day before we crossed the threshold of 200,000 deaths, the President held a campaign rally and insisted that this virus, quote, "affects virtually nobody...," just "elderly people..." with "heart and other problems."
Think about that. Who was he talking about when he said it affects "virtually nobody?"
He was talking about seniors. He was talking about you.
You've worked hard your whole life, contributing to society, building a family. You deserve security.
You deserve respect and peace of mind, but you're not getting it because to Donald Trump, you're expendable. You're forgettable. You're "virtually nobody."
That's how he sees seniors. That's how he sees you.
It's no surprise this is the same man who looks at Americans who put their lives on the line for our nation and calls them "losers" and "suckers."
That's how he sees you — and that's the attitude he's brought to this crisis.
This is the same man who, when told we were losing 1,000 lives a day, said "It is what it is."
Well it is what it is because he is who he is.
This President knew back in January when he was briefed in detail by the intelligence community that this was an extremely dangerous and communicable disease.
He went on a taped interview with Bob Woodward, the journalist, telling him he knew how dangerous this disease was, but he did nothing.
Ask yourselves, why didn't he tell the country? He said nothing.
He told Bob Woodward that he didn't want to panic the American public. We don't panic, but he did.
His reckless personal conduct since his diagnosis is unconscionable, and the longer Donald Trump is president, the more reckless he gets.
Dr. Fauci referred to the President's announcement on the Supreme Court in the Rose Garden as a super spreader event, and how is he responding?
He's running a national ad, quoting Dr. Fauci out of context.
Fauci had said way back in March, referring to public health officials, "I can't imagine that anybody could be doing more."
Yet Trump and his campaign deliberately lied, making it sound like Fauci was talking about him.
Fauci went public after the ad came out, saying, I did not give permission to use that quote. He wasn't referring to the President.
And even after Fauci said that he did not say that, Trump and the campaign said they would continue to use the ad, knowing it was a lie.
As a consequence to months of lying, misleading, and irresponsible action on the part of Donald Trump, how many empty chairs are there around the dinner table because of his negligence?
While he throws super-spreader parties at the White House, where Republican politicians hug each other without concern for the consequences, how many of you have been unable to hug your grandkids these last seven months? Your grandkids, whom you hope will grow up to treat others with kindness, respect, and empathy, qualities this President has never shown?
It's become painfully clear — as his careless, arrogant, reckless COVID response has caused one of the worst tragedies in American history — the only senior that Donald Trump cares about, the only senior that Donald Trump will do anything for, is Donald Trump.
Folks, we are better than this. We can contain the virus to fully reopen our economy. We can bring Congress together to pass real relief, and then implement a comprehensive agenda to Build Back Better.
An independent analysis put out by Moody's, a Wall Street firm, projects that my plan will create 18.6 million jobs — 7 million more jobs than the President's plan, and $1 trillion more in economic growth than the President's plan.
Here's how my plan works: I'm not going to raise taxes on anyone who makes less than $400,000 a year. You won't pay a penny more.
But, I'll ask big corporations and the wealthy to pay their fair share. That money will allow us to invest in working people and growing the middle class, and make sure everyone is included in the deal.
I want to reform our tax code because we're spending your tax dollars on the wrong things.
Donald Trump cut the corporate tax rate from 35% to 21% — costing the Treasury a fortune. Just raising the corporate rate back to 28% would generate $1.3 trillion dollars over the next decade.
Instead of giving big corporations hundreds of billions to pay for stock buybacks and moving jobs overseas, we should invest in finding cures for cancer, diabetes, Alzheimers, and Parkinsons.
That's why I proposed giving the National Institutes of Health $50 billion over the next four years, to go after cancer, diabetes, Alzheimers, and Parkinsons.
This is about you, about what's fair, about what our priorities should be.
We can deal with the scourge of cancer and these other diseases, but Donald Trump has no interest. In fact, he wants to do the opposite and propose more tax cuts for the very wealthy.
Unlike Donald Trump, we're going to ease the burden of the major costs in your life, including the financial burden of caregiving that so many families are carrying.
Right now, there are about 800,000 people who are eligible for home and community care through Medicaid and who have signed up for it.
But they're waiting for that phone call back. For some, the wait is five years.
My plan makes a bold investment so that states can clear that waiting list.
We'll also take on pharmaceutical companies. We'll allow Medicare to use its enormous bargaining power to negotiate the price of prescription drugs for seniors and give all Americans access to those lower prices.
We'll establish a board to set limits on the price of new specialty drugs that have no competition.
An independent analysis found that my plan will slash the cost of prescription drugs by 60%.
We will protect Social Security and increase benefits for millions of seniors, and I'll fight to protect your pensions, including fixing multiemployer pensions, that so many Floridians earned and deserve.
Folks, we can do this. We just have to come together.
I'm running as a proud Democrat but I will govern as an American president.
I'll work as hard for those who don't support me, as for those who do.
That's the job of a president: it's a duty to care — for everyone.
And after all we've been through, all America has accomplished, all the years we've stood as a beacon to the world, we cannot allow ourselves to go on divided.
But you have to vote. Go to IWillVote.com/FL.
You can still request your vote-by-mail ballot. The deadline is October 24th.
Request your ballot. If you have it already, mail it or drop it in a dropbox today.
I'm tired of us walking around with our heads down. We're the United States of America. There's not a single thing we can't do when we do it together.
I'll never forget what President Kennedy said when he promised to send us to the moon: he said he "refused to postpone".
I refuse to postpone the work America must do. There's nothing beyond our capacity. There's no limit to America's future. The only thing that can tear America apart is America itself.
Everybody knows who Donald Trump is. We have to let them know who we are.
We choose hope over fear. Unity over division. Science over fiction. And yes, truth over lies.
God Bless you, and may God protect our troops.
Joseph R. Biden, Remarks by Vice President Joe Biden in Pembroke Pines, Florida Online by Gerhard Peters and John T. Woolley, The American Presidency Project https://www.presidency.ucsb.edu/node/347046