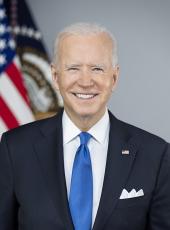 Remarks by Vice President Joe Biden in Monaca, Pennsylvania
[As prepared for delivery]
Hello, Beaver County!
It's great to be back.
Thank you, Greg Bernarding for that introduction—and everything you do for the ironworkers.
And thank you, Congressman Lamb.
Conor Lamb knows better than just about anyone what it takes to win tough fights in Western Pennsylvania.
It takes grit and tenacity.
And tomorrow, we're going to send Conor back to Congress. We're going to hear what labor has to say. We're going to win Pennsylvania and show the world what America stands for!
Folks, I wanted to come thank you all personally for canvassing.
Mayor Dwan Walker, President Robert Davis, Terri Mitko, Rob Matzie, thank you for all you're doing across Beaver County.
And thanks to all the union members here today, like Jim Depoe who you heard from — I know you're fired up and ready to take your country back.
We're in the home stretch, and the work you're doing matters.
Pennsylvania matters.
I've been proud to have the backs of union workers throughout my career, and it means the world to me that you've got my back here in the home stretch.
You all know the stakes have never been higher. And you have the power to make all the difference.
The stakes in this election remind me of something my dad used to say: "Joey, a job is about a lot more than a paycheck. It's about dignity. Respect. Your place in the community. It's about being able to look your kid in the eye and say honey, it's going to be ok."
That's a lesson I've never forgotten — growing up with hard-working families over in Scranton.
But it's a lesson Donald Trump never learned because he can only see the world from Park Avenue.
He can't see what families like yours are going through.
So he refused to do the work to get this virus under control.
He refused to do the work to get our schools and small businesses the resources they need to keep our firefighters and teachers on the job.
He refused to bring Congress together to get real help for working families.
Because he thinks Wall Street built this country. That's who he looks out for.
But I know, we know that the middle class built this country and unions built the middle class.
I see the world from Scranton, from working towns in Pennsylvania.
That's why my Build Back Better plan will reward work, not wealth.
I'm not going to raise taxes on anyone who makes less than $400,000 a year. You won't pay a penny more.
But I'll ask big corporations and the wealthy to pay their fair share.
We'll invest that money in working people, creating millions of good-paying union jobs.
$2 trillion to build more resilient infrastructure, roads, bridges, water systems, and a whole lot more, all done by certified union labor.
And by the way — no matter how many times Trump repeats the lie, we will not — I repeat, will not — ban fracking.
What we will do is end the Trump incentives for sending jobs overseas.
We'll have a trade strategy that fights for every American worker and actually gets results.
I'll stand up to China's trade abuses.
Because I know no one can outcompete the American worker when you're given a fair shot.
But we can only get it done if Pennsylvania votes.
We've got to make sure everyone returns their ballots or votes by tomorrow, and make sure everyone you know does the same.
It's time to rebuild the backbone of America — the middle class — and this time bring everybody along.
It's time to unite America.
Here's the amazing thing about this moment in history: On the one hand we are facing the biggest threat to who we are and what we believe that we've seen in our lifetimes.
But on the other hand, our future has never been more promising.
I've said it many times. I'm more optimistic about America's future today than I was when I got elected to the United States Senate as a 29 year old.
And here's why: We are better positioned than any nation in the world to lead the 21st century.
Our workers are three times as a productive:
We have the biggest economy in the world. We have the strongest military in the history of the world. We have the most innovative entrepreneurs. We are virtually energy independent. We have more great research universities than the rest of the world combined. No other nation in the world can match us.
We lead by the power of our example, not the example of our power.
The only thing that can tear America apart is America itself.
And that's exactly what Donald Trump has been doing from the beginning of his campaign: Dividing America.
Pitting Americans against one another based on race, gender, ethnicity, national origin.
That's wrong. That's not who we are.
Everybody knows who Donald Trump is. Let's keep showing them who we are.
We choose hope over fear.
Unity over division.
Science over fiction.
And yes, truth over lies.
So it's time to stand up and take back our democracy.
We can do this. We can be better than what we've been.
We can be who we are at our best: The United States of America.
May God bless you.
May God protect our troops.
Joseph R. Biden, Remarks by Vice President Joe Biden in Monaca, Pennsylvania Online by Gerhard Peters and John T. Woolley, The American Presidency Project https://www.presidency.ucsb.edu/node/347045