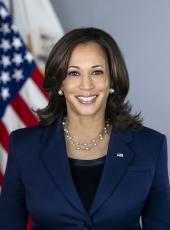 Remarks by Vice President-elect Kamala Harris in Wilmington, Delaware
[As prepared for delivery]
Good afternoon.
A few months ago, as wildfires raged across the West, I traveled home to California.
What I saw on that trip — and so many others in recent years — was heartbreaking.
Charred playgrounds.
Homes and neighborhoods in ashes.
Firefighters battling fires, while their own homes burned to the ground.
Some of the most toxic air, anywhere in the world.
Two years ago, in 2018, when I visited communities like Paradise that had been devastated by wildfires, that year's fire season was considered the worst in California's history.
This fire season was even worse. The worst in California's history — and America's history.
And of course, fires are only one symptom of our growing climate crisis.
In recent years, families across the Midwest have experienced historic flooding, while families along our coasts have endured some of the most active hurricane seasons on record.
They only name a storm if it's particularly dangerous. This year, we had more named storms than ever before.
Our climate crisis is not a partisan issue.
And it is not a hoax.
It is an existential threat to all of us, particularly poor communities and communities of color who bear the greatest risks from polluted air, polluted water, and a failing infrastructure.
Years ago, when I was District Attorney in San Francisco, I created the first environmental justice unit in the city — and one of the first in our country.
Because I believe that everyone has a right to breathe clean air and drink clean water.
So does the president-elect.
Part of the reason I was so proud to join him as his running mate was because he was proposing one of the most ambitious climate plans in history.
A plan to secure carbon-pollution free electricity by 2035.
A plan to achieve net-zero emissions no later than 2050.
A plan to invest in a clean energy future, and create millions of good-paying, union jobs, along the way.
And the team that President-elect Biden and I are announcing today will help make that plan a reality.
They are some of our country's most seasoned public servants and climate experts.
They have experience mastering the most effective ways to get things done when it comes to climate change.
They recognize the importance of bringing the private sector and organized labor together with government to meet this challenge, and confront this crisis head-on with our allies and partners around the world.
And they are compassionate leaders who understand that, ultimately, addressing climate change is about building safer communities, and healthier communities, and thriving communities, for all Americans.
These public servants reflect the very best of America. And they are the team we need to meet this urgent challenge.
In his 2015 encyclical, the Holy Father Pope Francis wrote — quote: "Humanity still has the ability to work together in building our common home."
Starting on January 20th, we will work to heed those words and come together, here in our country and around the world, to build and protect our common home for generations to come.
Thank you, Mr. President-elect.
Kamala Harris, Remarks by Vice President-elect Kamala Harris in Wilmington, Delaware Online by Gerhard Peters and John T. Woolley, The American Presidency Project https://www.presidency.ucsb.edu/node/347440