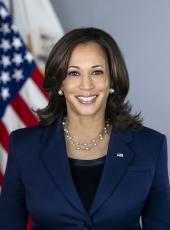 Remarks by Vice President-elect Kamala Harris on the Nomination for Secretary of Education
[As prepared for delivery]
My first grade teacher, Mrs. Frances Wilson, attended my law school graduation.
She taught our first grade class with two teachers' aides and 22 students in the classroom.
And she instilled in me a deep belief in the importance and significance of public education that I carry with me to this day.
If we are going to fulfill our country's promise, we must be dedicated to a strong public education system.
We must value it. We must strengthen it. And we must invest in it.
Because one of the most important gifts a society can give its young people is the gift of a world-class education.
We also know that right now, our education system — from early learning centers, to colleges and universities — is reeling from this pandemic.
Parents and educators are being stretched to their limits — and so are the cafeteria workers, bus drivers, custodians, and nurses who keep our schools running.
Students at colleges and technical colleges now worry about losing credits, losing financial aid, and losing income from working on campus.
And all the disruption is taking a heavy toll on the mental health and well-being of students of all ages who risk falling behind.
At the same time, this pandemic threatens to widen disparities between students of different races and backgrounds, making it harder for those who were already behind to keep up.
So, first things first.
We need to get this virus under control and reopen our schools safely. That is why the president-elect and I supported funding for our education system in the recently passed COVID-19 relief legislation. And we will continue to fight for additional emergency relief for our educators and schools.
And even as we do, we must also build a public education system that lifts up all Americans, regardless of race, background, or ZIP code. An education system that prepares them with the knowledge and skills to thrive in a 21st century economy.
We must make sure our children are getting the foundation that's so important for lifelong success.
We must end the current status quo where school districts with the greatest needs get the fewest resources.
And we must remove barriers to opportunity for poor and rural communities and communities of color.
The leader we are announcing today will help us do that and unlock the power of an education for all Americans.
Dr. Miguel Cardona is not only a seasoned public servant, he is also a former public school teacher and administrator with experience in the classroom. And he knows what our students, teachers, and schools need to be successful.
He has dedicated his career to fighting for our children. And he has a deep belief in the power of a world-class education to help every child, everywhere, overcome barriers of race, gender, or income to reach their God-given potential.
Dr. Cardona represents the very best of our nation and he is the kind of leader America's students, educators, and families deserve.
I've always believed that government has three principal functions: Public health. Public safety. And public education.
Over the past few weeks, we have announced remarkable leaders who will help contain this pandemic and keep the American people safe and secure.
Under Dr. Cardona's leadership, we will work together to put an outstanding education within reach for everyone — breaking down barriers to equality, opening new paths to opportunity, and helping fulfill America's promise to all our children.
Thank you, Mr. President-elect.
Kamala Harris, Remarks by Vice President-elect Kamala Harris on the Nomination for Secretary of Education Online by Gerhard Peters and John T. Woolley, The American Presidency Project https://www.presidency.ucsb.edu/node/347425