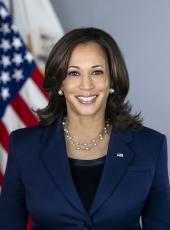 Remarks by Vice President-elect Kamala Harris Announcing Key Science Advisors in Wilmington, Delaware
[As prepared for delivery.]
I feel a certain kinship with the nominees we are bringing together today. Because my mother was a scientist, an endocrinologist. She was passionate about science, and basically had two goals in her life: to raise her two daughters, and to end breast cancer.
When I was young, I'd go with her to the lab, where she'd give me jobs to do. My least favorite was cleaning pipettes.
And when you're the daughter of a scientist, science has a way of shaping how you think and see the world. My mother used to talk about the scientific method as if it were a way of life.
And she instilled in me a fundamental belief in the importance of collecting and analyzing data. Facts.
Of forming a hypothesis, and recognizing that it's not a failure to reevaluate that hypothesis when the facts don't add up.
Of making decisions, not based on intuition or ideology, but based on evidence.
Today, the importance of that lesson — of following the science, of listening to scientists — is clear everywhere we look.
From a pandemic that has taken such a devastating toll partly because our nation's leaders did not listen to scientists from the start, to raging wildfires, record-breaking storms, and a climate crisis that scientists agree is caused by human beings.
The science behind climate change is not a hoax. The science behind the virus is not partisan. The same laws apply, the same evidence holds true, regardless of whether or not you accept them.
And President-elect Biden and I will not only listen to science, we will invest in it so we can achieve breakthroughs — from strengthening public health to tackling climate change to jumpstarting job-creation and economic growth.
And as we do, we will also make sure we are investing in STEM education and the next generation of scientists, including women scientists and scientists of color.
The team we are naming today will help lead this work. These world-renowned scientists and distinguished experts are joining our administration because they believe in public service, and they want to put their extraordinary talents to work on behalf of the American people.
By nominating them to these important posts, President-elect Biden and I are sending a clear message: We are going to make sure the United States of America once again leads the way in science and innovation, harnessing the world's collective knowledge to unlock new cures, new breakthroughs, and new possibilities for all.
Let me close by saying this. A few weeks ago, I got the first dose of my coronavirus vaccine. It was the Moderna vaccine, and it was developed with the National Institutes of Health by a team that was co-led by a 34-year-old Black woman named Dr. Kizzmekia Corbett.
So, I have a message for all the little girls and boys out there, who dream of growing up to be superheroes. Superheroes aren't just figments of our imagination.
They're walking among us. They're teachers, doctors, and scientists. They're vaccine researchers like Dr. Corbett. And you can grow up to be like them, too.
So, dream big, lead with conviction, and see yourselves as the superheroes of tomorrow — as the next Dr. Corbett — because that's who you are.
See yourselves that way and pursue your dreams, not only for your sake, but for ours. Our country needs you.
Thank you, Mr. President-elect.
Kamala Harris, Remarks by Vice President-elect Kamala Harris Announcing Key Science Advisors in Wilmington, Delaware Online by Gerhard Peters and John T. Woolley, The American Presidency Project https://www.presidency.ucsb.edu/node/347755