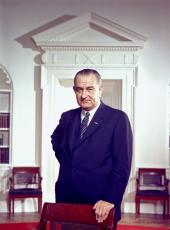 Remarks Upon Signing the Special Drawing Rights Act
Secretary Fowler, Chairman Martin, Members of Congress, ladies and gentlemen:
Seven weeks ago I asked the Congress to approve an amendment to the International Monetary Fund Agreement which provided for the creation of a new form of international reserves--the Special Drawing Rights.
Today we meet here to sign this historic bill into law. I think it is quite fitting that the United States should be among the first nations to approve this measure, and thereby cast its vote for a stronger world economy.
For the first time in the world's financial history, nations will be able to create international reserves by deliberate and joint decision-and in amounts needed to support sound growth in world trade and payments.
Pessimists doubted that a meaningful international agreement could be reached in this complicated and sensitive area. But they were wrong.
The creation of these new reserve assets will take place within the framework of the International Monetary Fund. This remarkably successful institution has been at the center of the international monetary system since the end of World War II. Its importance to the world economy has been demonstrated over the years.
The new Special Drawing Rights will be a logical extension of the Bretton Woods agreements that fathered the International Monetary Fund and our present international financial machinery. By working together, the member nations of the Fund have demonstrated that they can adapt this machinery to current needs.
We and the other member nations of the Fund have chosen the evolutionary approach-building on existing foundations to meet present and future needs. This is not an emergency action--but it will help prevent future emergencies.
Our experience shows that sustained growth in the world economy requires orderly growth in international reserves. Special Drawing Rights, we believe, will meet this need.
I am very proud that this administration played a major role in the long negotiations that led to this agreement. Farsighted congressional leaders of both parties backed our efforts and developed guidelines for our negotiations. Key figures in the banking, financial, and academic world, under the leadership of the distinguished former Secretary of the Treasury, Honorable Douglas Dillon,1 gave their support and their wise counsel.
For Secretary Fowler, Chairman Martin, Under Secretary Deming, and Governor Daane--as well as for those of you who worked closely with them--this has been a very long and a very difficult journey. You have returned not with a pot of gold, but with something better.
We can all take great satisfaction in this accomplishment. We are proving here again--as we must prove, and continue to prove in the future--that by all of us working together, nations can deal with a common problem in the common interest.
I notice Chairman Patman and Mr. Widnall in the back of the room. If you would come over and join us, we would appreciate it very much.
In concluding, I would just like to pay a very special recognition to the most indefatigable, determined, conscientious, genuine public servant that I have been associated with in all of my years here--in the most complicated business, whether it is drawing rights, whether it is fiscal problems, whether it is international agreements, whether it is monetary policies, whether it is tax bills, whether it is economic issues.
There has been no person that I know of who has contributed more or deserved more credit than the brilliant, prudent, wise Secretary of the Treasury, Henry Fowler.
He never asks for credit. He never seeks the limelight. But he always delivers the goods. I want to personally recognize him and thank him for his service not only to this administration, but every administration since I have been in Washington. He has always put the Nation's interest above his own personal affairs.
Note: The President spoke at 11:55 a.m. in the Fish Room at the White House. In his opening words he referred to Henry H. Fowler, Secretary of the Treasury, and William McC. Martin, Jr., Chairman of the Board of Governors of the Federal Reserve System. During his remarks he referred to among others, Frederick L. Deming, Under Secretary of the Treasury for Monetary Affairs, J. Dewey Daane, member of the Board of Governors of the Federal Reserve System, Representative Wright Patman of Texas, Chairman of the House Banking and Currency Committee, and Representative William B. Widnall of New Jersey, member of the House Banking and Currency Committee.
As enacted, the bill (H.R. 16911) is Public Law 90-349 (82 Stat. 188).
11961--1965.
Lyndon B. Johnson, Remarks Upon Signing the Special Drawing Rights Act Online by Gerhard Peters and John T. Woolley, The American Presidency Project https://www.presidency.ucsb.edu/node/237047