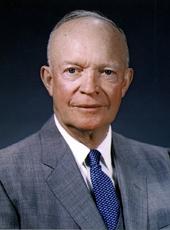 Remarks Upon Signing the Proclamation Admitting Hawaii to the Union and the Executive Order Changing the Flag of the United States.
Gentlemen:
I think that we shall recognize that this is truly an historic occasion because for the second time within a year a new State has been admitted to the Union. It had been a long time since any State had been admitted, so to have this 49th and 50th membership of our Union in such a short space is truly a unique experience.
All forty-nine States will join in welcoming the new one--Hawaii--to this Union. We will wish for her prosperity, security, happiness, and a growing closer relationship with all of the other States. We know that she is ready to do her part to make this Union a stronger Nation--a stronger people than it was before because of her presence as a full sister to the other forty-nine States. So all of us say to her, "Good Luck." And to each of her representatives, a very fine tour of service in the public domain. We know that they will find their work interesting and fruitful for all of us.
The Speaker just reminds me of one fact that has great historic significance. Next Monday will be the first time in 158 years there has not been a Delegate in the membership of the Congress of the United States. The Delegates are gone and in their place we have Senators and Congressmen.
Note: The ceremony was held in the Cabinet Room at the White House at 4:00 p.m. Among those present were the Vice President, Speaker Sam Rayburn, Secretary of the Interior Seaton, Edward Johnson, former Secretary of the Territory of Hawaii (representing Governor-elect William F. Quinn), Senator-elect Oren E. Long, Representative-elect Daniel K. Inouye, Lawrence Lau (representing Senator-elect Hiram Fong), and Lorrin Thurston, Chairman of the Hawaii Statehood Commission.
The new 50-star flag, to become official on July 4, 1960, was unfurled immediately after the President signed the documents.
Executive Order 10834 "The Flag of the United States" and Proclamation 3309 "Admission of the State of Hawaii into the Union" are published in the Federal Register (54 F.R. 6865 and 6868, respectively).
Dwight D. Eisenhower, Remarks Upon Signing the Proclamation Admitting Hawaii to the Union and the Executive Order Changing the Flag of the United States. Online by Gerhard Peters and John T. Woolley, The American Presidency Project https://www.presidency.ucsb.edu/node/235226