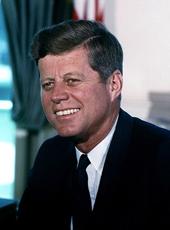 Remarks Upon Signing the Maternal and Child Health and Mental Retardation Planning Bill
Ladies and gentlemen:
It gives me great pleasure to approve this bill, the Mills-Ribicoff bill, which strengthens our maternal and child health and crippled children services. It will initiate a new program of comprehensive maternity and infant care, aimed directly at preventing mental retardation. It will help arouse local communities to a major attack on the problems of mental retardation.
An estimated 15 to 20 million people in our country live in families where there is a mentally retarded person who must accept support of some kind throughout his entire life. This condition affects more of our children and more of our people than blindness, cerebral palsy, and rheumatic heart disease combined.
Studies indicate that much of this suffering is preventable--that we can prevent what cannot afterwards be cured. Infants born prematurely are 10 times more likely to be mentally retarded. Mothers who have not received adequate prenatal care are two to three times more likely to give birth to premature babies. Yet, in 132 large cities, studies have shown that an estimated 455,000 mothers are unable to pay for health care during pregnancy and after birth. This bill will help insure that no child need be born retarded for such reasons, which are wholly in our control.
I am encouraged by the speed with which the State governments are acting to take advantage of the opportunity provided by this law to establish comprehensive plans for community action against mental retardation. About half of the States are already in a position to implement the planning grants made possible by the law, and I am confident that the other half will soon be in a similar position.
Enactment of this legislation is, therefore, an important landmark in our drive to eliminate one of the major health hazards affecting mankind. We can say with some assurance that, although children may be the victims of fate, they will not be the victims of our neglect.
I am particularly grateful to the chairmen of the two committees of Congress--Congressman Mills and Senator Byrd--and to Senator Ribicoff and to the Republican Members of those committees, and to other Members of the House and Senate for their leadership and interest in this important legislation. I am sure that they feel--all the Members of Congress who worked on this-feel the same sense of satisfaction that I do with the passage of this bill.
This is a very rich and prosperous country. There is no reason why our standards in this country should be below other countries. We all know statistically we are behind particularly the Scandinavian countries in this area. There is no reason why we should be. And this is one of the areas I think that has somewhat darkened our national life and I am glad the Congress has worked so hard on this and other programs which will be forthcoming. I think that we can make a significant difference to the lives of a good many people who otherwise would live retarded all of their lives, and all of us know the effect of that.
Note: The President spoke at 11:30 a.m. in the Cabinet Room at the White House. As enacted, the bill (H.R. 7544) is Public Law 88-156 (77 Stat. 273).
John F. Kennedy, Remarks Upon Signing the Maternal and Child Health and Mental Retardation Planning Bill Online by Gerhard Peters and John T. Woolley, The American Presidency Project https://www.presidency.ucsb.edu/node/236538