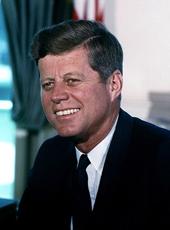 Remarks Upon Signing the Food and Agriculture Act of 1962
The Agriculture Act of 1962 represents an important step forward in our program to increase farm income while reducing costs to the Government of the farm program, and holding the accumulation of farm surpluses.
Last year under the 1961 program we made excellent progress. Farm income increased $1 billion--and surpluses are down. This is reflected in improvement also in the economic health of rural communities. I notice that deposits in country banks in farm States are already up 10 percent from 1960, and industries which supply farmers have reversed unfavorable trends. This bill will permit us to increase the gains we have made in all of these sectors of the economy.
I understand that feed grain stocks would have climbed to more than 3 billion bushels by 1964 without the farm legislation the 87th Congress has enacted. With this legislation stocks should go down to near the needed reserve levels by 1964. I think that this is an important point--with this legislation stocks should be down to near the needed reserve levels by 1964.
Similarly, as a result of this bill, wheat carryover stocks in a few years will be reduced to half of the 1961 level.
This legislation brings to a successful conclusion nearly 40 years of public discussion, some 10 years of congressional debate, and a long record of active support by farm groups for what is called "two price wheat legislation." Now wheat producers and wheat processors can plan confidently for the future instead of having to operate from year to year under emergency bases.
I am especially pleased by the pilot program in the bill to explore means of turning farm lands to nonagricultural purposes, and to broaden the authority of the existing watershed and lending programs of the Department of Agriculture. These may be the most important provisions of this legislation, for it opens up possibilities for constructive and continuing programs of multiple use of private and public conservation projects, expanded open air space areas around cities, and economic development of some of our less developed areas. With this bill we can also continue our efforts to expand the Food for Peace program, and encouraging at the same time our prospects for expanded commercial trade.
There is provision for increasing participation by the United States in school lunch programs in friendly countries, and for partial financing of these programs by the recipients. I am confident that this act will help us sustain prosperity, reduce burdens of surpluses, and maintain stable food prices.
I want to congratulate the members of the Congress from both sides who labored so long in the past 2 years on this legislation-Senator Ellender in the Senate and Congressman Cooley in the House, and the members of the House and Senate Agriculture Committees who are with us today, who, against substantial odds, were able to secure the passage of this important piece of legislation which benefits agriculture and the country as a whole.
Note: The President spoke in his office at the White House at 12:45 p.m.
The Food and Agriculture Act of 1962 is Public Law 87-703 (76 Stat. 605).
John F. Kennedy, Remarks Upon Signing the Food and Agriculture Act of 1962 Online by Gerhard Peters and John T. Woolley, The American Presidency Project https://www.presidency.ucsb.edu/node/235684