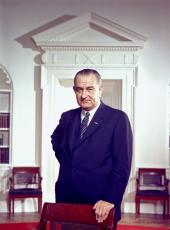 Remarks Upon Signing the Consumer Credit Protection Act
Mr. Vice President, Members of the Cabinet, Members of the Congress, my beloved friend Senator Douglas, distinguished guests, ladies and gentlemen:
I ask your indulgence for being late. We had a rather extended briefing on a subject that means more to all of us than any other subject, and that is how we can get peace in the world.
I have been talking to Mr. Vance since before 8 o'clock this morning, reviewing all the developments of the past 2 weeks. He is preparing to return to Paris. He has been briefing our Cabinet and evaluating for us the developments there.
I assume it is not inappropriate here to observe that back last August we searched our minds and our hearts and our principles and laid down a program which was subsequently announced in San Antonio that we were hopeful would lead to the peace table.
That program was rejected outright and we searched many other avenues and many other conferences.
On March 31st, I reached a decision that if we would take the unusual step of exercising great restraint on our own part by eliminating our offensive efforts over 90 percent of the population in North Vietnam and 78 percent of the territory, if we did that unilaterally, without expecting anything from them or asking anything from them, that might lead to the talk table where we could discuss this matter. If we could talk, that might lead to some agreement sometime.
It was an adventure. There were no guarantees involved about what it would do. But we thought it offered enough hope. I didn't feel that it was a matter that could be involved in partisan-year politics or personal ambition. So for that reason, I said that we will do this to try to get to the table; and to convince not only everyone abroad, but everyone at home that it is no election year gimmick, I made the additional decision not to seek reelection.
We have gone part of the way. We are at the table. It took us a month to get there. Some people were not helpful to us in getting there but we are there, thank goodness. The next question is: "What do we do there?" We hope we make progress. We don't know. We have not made much up to date. We can't see the future, but we are going to try. That is why we have been delayed. Thank you very much for your understanding.
Today is a day that most Americans have been waiting for for 8 long years. With this bill, the Consumer Credit Protection Act, we are entering a new era of honesty in the marketplace.
At long last the consumer will receive the treatment he deserves when he borrows money. The buyer will be allowed to know what the seller has always known--that is, how much interest he will have to pay on a credit purchase.
This bill, I think, is an example of government working at its best--government responding to the growing and the changing needs of the people. Good government does respond to change.
Here is just one example of how those needs have grown: In 1946, one year after the end of the war, consumer credit amounted to $8 billion.
This year the figure will be not $8 billion, but well over $100 billion.
Yet all during those 22 years of great growth, our laws did not grow. They have not changed at all to meet these new demands.
The old argument was that telling a man exactly how much interest he would be called upon to pay would confuse him.
Well, today we know better. We know that our consumers should be able to shop for credit as knowledgeably as they shop for groceries or merchandise.
When our parents have to borrow for their children's education or to pay medical bills, they should be told not just how much a month they will be paying, but the total debt that they are pledging themselves to sign up for.
When a housewife opens a charge account at a department store, she will not have to compute how much 1 1/2 percent a month comes to. She will be told that the annual rate is 18 percent, and exactly how much of her total bill goes to finance charges.
When a man takes out a personal loan to pay for a new car, the finance company won't be able to say simply "$5 down and $25 a month." The buyer must be told how many months he will be paying, how much of his money pays interest and other carrying charges.
If a man falls into debt, he will not be punished by unreasonable garnishment of his salary. He will not be deprived of food for his family or money for his rent. He will not be fired out of hand.
If a householder or a small businessman falls prey to loan sharks, his body and his property will be protected from extortionists by stiff Federal penalties.
As President, I know of no single piece of legislation which is of more pressing or more personal concern to more of our consumers than this bill. This bill is truly a triumph for truth.
We are establishing today a National Commission on Consumer Finance to continue to study these problems and to make sure we don't again let our actions fall behind our needs.
I don't think any of you know how pleased I am and how happy I am to see Senator Paul Douglas, our old friend, here with us in the East Room today. He is a battle-scarred warrior with many victories and many defeats under his belt. But this is one of his proudest victories. This is his bill. He has been championing it for 8 years.
This bill also belongs to many other people. It belongs to our good lady friend, that able Congresswoman from Missouri, Congresswoman Sullivan. She fought--and I say "fought"--for a strong and an effective bill when others would have settled for less. She was supported by her colleagues in the House, particularly her Chairman of the Banking and Currency Committee, Congressman Patman, whom I am glad to welcome here today.
It is Senator Proxmire's bill, too. He recognized the needs of this Nation and he saw to it that those needs were met.
But most of all, this bill belongs to all 200 million of us--alert, aware, and demanding consumers that we are.
I want to particularly thank every Member of Congress, House and Senate, for what you may have done to make this occasion possible.
I particularly want to single out one person in the executive department, one of our much overlooked individuals, the career public servant, Mr. Cedric W. Kroll of the Treasury Department. Mr. Kroll is the Government's actuary. He is a veteran of more than 25 years of Federal service.
He and his colleagues in the Treasury's Office of Public Debt Analysis had a tough job to do before we could even begin to get a truth-in-lending bill. The lenders had argued that any bill was unworkable because of the variety of credit transactions involved. They said the requirements were just too complicated to be calculated with accuracy.
Well, Mr. Kroll and his associates didn't buy those arguments. They put their heads together and came up with a set of interest rate tables and schedules that make disclosure of the many varieties of credit transactions relatively simple. They cracked this tough, impossible, big, technical problem that had stalled a truth-in-lending bill for years.
These few men, these quiet, effective men, whom the Government is filled with--men and women like them--are called bureaucrats sometimes in the heat of debate in the Congress. I call them real patriots. They were working backstage and they proved that this bill could be made to work. These men, and thousands like them, are living proof of how our Government works for the people.
We owe this bill and other good bills to our career civil servants who are always working behind the scenes to better our lives and usually doing the things for which we take the credit.
I am proud today to speak for not only our consumers and for all of our people in recognizing our debt and paying our thanks to the public servants who go unheralded, unknown, and unsung, and who make our prosperity and our security better by their careers.
But I want to again pay my compliments and salute the selflessness of Miss Betty Furness, who came here to undertake consumer leadership and who has not only undertaken it, she has provided plenty of it. Thank you very much.
This is unusual, and I don't want to take much more of your time, but we do have another man who has given 8 or 9 years of his life to Federal service in many capacities-in the legislative branch of the Government, in the military branch of the Government, in the diplomatic branch of the Government-and he is one of the great public servants of our time. I want him to take the next few minutes of your time on the thing that is most in your heart--peace in the world. Cy Vance.
AMBASSADOR VANCE. Mr. President, ladies and gentlemen:
As a result of the President's speech of March 31st, and the actions announced therein, we are now at the conference table in Paris.
It took us a month to get to the conference table. How long it will take us to achieve a just and honorable peace at the conference table, we do not know.
The road ahead, I believe, will probably be long and difficult. However, we will persevere in our search for a just and honorable peace so that peace and prosperity may be brought to Southeast Asia and to the world.
Thank you, Mr. President.
Note: The President spoke at 1:26 p.m. in the East Room at the White House. In his opening words he referred to Hubert H. Humphrey, Vice President of the United States, and Paul H. Douglas, Senator from Illinois 1949-1967. During his remarks he referred to, among others, Ambassador Cyrus R. Vance, U.S. negotiator at the Paris peace talks with North Vietnam, Leonor K. (Mrs. John B.) Sullivan, Representative from Missouri, Wright Patman, Representative from Texas, William Proxmire, Senator from Wisconsin, and Betty Furness, Special Assistant to the President for Consumer Affairs.
As enacted, the Consumer Credit Protection Act (S. 5) is Public Law 90-321 (82 Stat. 146).
On January 20, 1969, President Johnson announced his three appointments to the National Commission on Consumer Finance (5 Weekly Comp. Pres. Docs., p. 137).
Lyndon B. Johnson, Remarks Upon Signing the Consumer Credit Protection Act Online by Gerhard Peters and John T. Woolley, The American Presidency Project https://www.presidency.ucsb.edu/node/237235