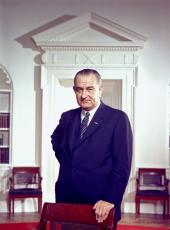 Remarks Upon Signing Bills Relating to United States Magistrates and to Judges in the District of Columbia Courts
Mr. Chief Justice, Senator Hruska, Congressman McCulloch, distinguished guests, ladies and gentlemen:
The act that I will sign today achieves a long-overdue reform in the Federal judicial system. It replaces United States Commissioners with the office of United States Magistrates.
But more than a name change is involved in this act, because it will bring new standards of professionalism and a much higher quality of justice to an important first level of our judiciary.
For instance, today Commissioners perform such responsibilities as issuing search and arrest warrants, holding arraignments and preliminary hearings, setting bail, and sometimes conducting trials of minor criminal offenses. But though these functions involve complicated legal issues, onethird of the 700 Commissioners are not even lawyers. And all are paid under a fee system that is repugnant to our concept of justice. The $10,500--a-year ceiling on fees makes it very difficult for us to attract the ablest men that these jobs require.
This new act requires, first of all, that Magistrates be lawyers. It replaces the fee system with a schedule of salaries that will rise to a maximum of $22,500 a year.
In addition to the duties of Commissioners, Magistrates will also be given important new responsibilities. Their trial jurisdiction will now embrace a broad range of minor criminal offenses. They also will be eligible to serve as special masters, and to supervise pretrial and post-conviction proceedings. This then will enable judges to spend more time on priority matters--and should relieve their congested dockets. There should be speedier justice, then, for all.
The act also improves the law relating to the preliminary hearing of accused persons. It is meant to make sure that no person will be held unless there has been a preliminary hearing or a grand jury indictment within a reasonable time after his arrest.
It is impossible to say whether this act, or any other single act dealing with the problem of crime in America, will actually reduce the crime rate by such-and-such a percentage. Only those who have not examined the complexities of the crime problem-or only those who seek to build their political temple out of public fear--would say that a single Federal act or series of acts could bring us law and order in America.
It seems necessary, especially in a campaign, to remind people that the control of crime is chiefly a local responsibility.
The quality of local law enforcement; the efficiency, as well as the quality, and the fairness of the local courts; and the effectiveness of local correctional institutions, have far more to do with whether crime is controlled in a community than do the actions of a single Federal official in Washington or the speeches of campaigners who desire to come to Washington.
Still, the Federal Government can help-as we are trying so hard to help with the Juvenile Delinquency Control Act, the Safe Streets Act, and all that we are doing to improve living conditions in those areas where the crime rate is the highest.
I have named several officials under the Crime Act who were not confirmed by the Senate. I will be issuing them recess appointments shortly because we have heard a great deal about the necessity to control crime and we cannot do it unless we can have the officials to act in responsible capacities under the law.
So steps like this one--which I believe improves the quality of justice on the basic level--are also important building blocks in achieving the rule of law in the United States.
I am honored that the Chief Justice and one of the leading members of the Judiciary Committee of the Senate and the ranking minority Member of the House would honor us with their presence here today. All of these men have done much to improve the judicial system in this country. I welcome their cooperation, and I thank them for it.
I am also glad to sign another bill which will give the District of Columbia two additional judges for its court of general sessions, and will provide the well-justified salary increases for the judges of that court, and for the judges of other courts in the District.
Thank you very much.
Note: The President spoke at 1:05 p.m. in the Cabinet Room at the White House. In his opening words he referred to Earl Warren, Chief Justice of the United States, Senator Roman L. Hruska of Nebraska, member of the Senate Judiciary Committee, and Representative William M. McCulloch of Ohio, ranking Republican on the House Judiciary Committee.
As enacted, the Federal Magistrates Act (S. 945) is Public Law 90-578 (82 Stat. 1107), and the bill concerning District of Columbia judges (S. 2439) is Public Law 90-579 (82 Stat. 1119).
Lyndon B. Johnson, Remarks Upon Signing Bills Relating to United States Magistrates and to Judges in the District of Columbia Courts Online by Gerhard Peters and John T. Woolley, The American Presidency Project https://www.presidency.ucsb.edu/node/237085