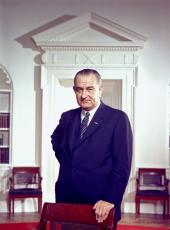 Remarks Upon Signing a Bill To Liberalize Provisions Relating to Veterans Pensions
Mr. Driver, Chairman Teague, Senator Randolph, Senator Anderson, and other distinguished Members of the House of Representatives, ladies and gentlemen:
I am glad you could come here this morning. I think we all appreciate the fact that every month these days more than 70,000 of our best young men take off their uniforms and go back into civilian life.
These new veterans--like their brothers and their fathers--have served their time and made their contribution to freedom and to liberty and to the things that we hold dear.
They are heroes come home--men who were ready to do all they could, including laying their life on the line in the terrible test that we are going through in Vietnam and other places.
I hope that America will never forget these men--just as she has never forgotten others in other wars who have made other contributions.
I think that we ought to observe that since World War II, about 11 1/2 million veterans have received educational training and been given educational benefits by the taxpayers of this country under the programs very wisely conceived in the Congress--what we call the various GI bills. Almost a half million--some 390,000 veterans are at this moment in school or in training somewhere in this country.
So the bill that we are going to sign shortly is another instance of the Nation's enlightened and compassionate tradition of trying to care for those who have carried out their obligations in an earlier day.
This bill, they tell me, will benefit approximately 1 million human beings who are Americans and veterans--mostly it happens to be the older veterans of other wars--and either their dependents or their survivors. It also protects these Americans against a very sharp reduction in benefits which would have occurred because of increases in other income, such as social security payments.
This bill is one of the several measures to aid veterans that are pending in the Congress and I hope we may be able to get passed this year with the help of the Congress. Among these bills we have proposed to Congress is the Veterans in the Public Service Act.
That bill is designed to put the best of America to work on the worst of our problems here at home. We think the veterans are among our best and we know that we have a very great need for good personnel on the worst problems we have.
So we would provide incentives to veterans to serve in the city slums as teachers, in the hospitals of the country to care for the sick, to aid us in our urban areas as policemen or as firemen--very necessary public duties that we are having difficulty finding people trained, equipped, and ready to perform.
We also have a good many of the rural hollows of the country where we need leadership. The training these men have received gives them a particular leadership that is very much in need.
Since Korea, we have discharged about 5 million, and sent them back into private life. But we have not emphasized to them or helped them prepare to fill our greatest needs.
They have just gone wherever they could go. Only about 100,000 of them--of the 5 million--got into teaching. So we want very much to encourage more of these young heroes to come back and set an example in the classroom, on the street, in the recreation areas, in the slums, and in the hollows to inspire our youngsters and to provide leadership for them. And this veterans in the public service bill we think will do that.
I want to pay tribute to the Members in the House and the Senate who handle our veterans legislation--Chairman Teague, Senator Randolph, the members of the Finance Committee and the Labor and Public Welfare in the Senate, Veterans Committee in the House. They resist terrible pressures every day in an attempt to do what is fair by the Government and the taxpayer and do what is right by the serviceman. They have, over the years, been models, I think, for prudence and--at the same time--justice.
So all you members of both parties who are here this morning, I thank you for your help. You have been among the least of my problems. You could have been among the greatest. I am very aware of it.
In addition, I want to pay public tribute to a career man whom I did not know when I named him to one of the most important posts in Government. There is not a Cabinet officer who handles much more money-other than perhaps HEW and Defense. There is not a more efficient administrator in Government and not a finer public servant. I do not know what party he belongs to. I don't even know what State he comes from. All I know is that he does a great job for our country.
Mr. Driver--to him and to his associates who are career public servants, their President, on behalf of all the country, says "Thank you," too.
Note: The President spoke at 11:43 a.m. in the Cabinet Room at the White House. In his opening words he referred to W. J. Driver, Administrator of Veterans Affairs, Representative Olin E. Teague of Texas, Chairman of the House Committee on Veterans' Affairs, Senator Jennings Randolph of West Virginia, and Senator Clinton P. Anderson of New Mexico.
As enacted, the bill (S. 12555) is Public Law 90-275 (82 Stat. 64).
Lyndon B. Johnson, Remarks Upon Signing a Bill To Liberalize Provisions Relating to Veterans Pensions Online by Gerhard Peters and John T. Woolley, The American Presidency Project https://www.presidency.ucsb.edu/node/238189