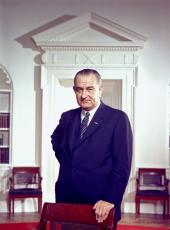 Remarks Upon Signing Bill Authorizing Appropriations for Defense Procurement and for Research and Development.
TODAY I am both gratified and sad. I am very grateful for the effective and patriotic work of the Armed Services Committees of the House and the Senate. This bill that I sign today is the largest separate fund authorization ever enacted by the Congress. It provides almost $17 billion for the activities of the Defense Department. This bill authorizes over 2,700 aircraft, 35,000 missiles, 53 new ships, and 7 ship conversions.
Senator Russell, Chairman Vinson, the entire Congress, particularly the members of the staffs of both Armed Services Committees, can draw from the passage of this bill the kind of pride that comes to men who have done something worthy and constructive for their country.
But today I am also sad. I know the other gentlemen from Georgia will agree when I declare that this bill represents still another tribute to the wisdom and the dedication of a great and good man, Carl Vinson. This bill marks one of the final official acts of patriotism from a man whose entire life has been an exercise in patriotism.
He has given 50 years to the Congress. No man in the history of this republic knows more about the posture of our defense, and no man has done more to improve it. I love him as a man; I respect him as a public servant. Carl Vinson cannot be replaced. He can only be honored. I know this Nation can continue to count on his advice and his counsel in the years ahead.
I learned much from him as a member of the House Armed Services Committee, although I took my postgraduate work under Senator Russell in the Senate. It is a great honor for me to sign into law this bill which represents a large stride forward in the strengthening of our Nation's defense and which symbolizes the uncommon devotion of one man, Carl Vinson of Georgia, to his country.
Note: The President spoke at 11 a.m. in the Cabinet Room at the White House. In the second paragraph he referred to Senator Richard B. Russell of Georgia, Chairman of the Senate Armed Services Committee, and Representative Carl Vinson of Georgia, Chairman of the House Armed Services Committee.
The act authorizing appropriations to the Armed Forces for procurement and research is Public Law 88-288 (78 Stat. 167).
Lyndon B. Johnson, Remarks Upon Signing Bill Authorizing Appropriations for Defense Procurement and for Research and Development. Online by Gerhard Peters and John T. Woolley, The American Presidency Project https://www.presidency.ucsb.edu/node/239570