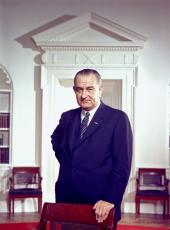 Remarks Upon Signing Bill Amending the Library Services Act.
WE ARE PROUD and delighted to have this distinguished company with us this morning in the White House. There are few acts of Congress which I sign with more pleasure, and certainly none with more hope than this new library services and construction act.
"A true university," observed Carlyle, "is a collection of books." This wise Englishman never wrote a truer statement. Anything that we can do to enlarge the number and the quality of libraries is, I think, an act of national achievement.
Good public libraries must be placed within the reach of all of our people. Libraries are not just for the young and the curious about an exciting world. They are not just for our youth preparing for their careers. They are not just for busy people looking for information to do their jobs. Libraries are for everyone and therein lies their real value.
This act importantly expands a program which helps make library services available to 38 million Americans in rural areas--38 million! It authorizes efforts to strengthen inadequate urban libraries. This act authorizes for the first time grants for the construction and renovation of library buildings.
Chances are that the public libraries are among the oldest buildings in any community. Only 4 percent of our public libraries have been built since 1940. Many of them were built through the wise generosity of Andrew Carnegie 40 years ago.
This Nation needs a larger and more diversified collection of books. We need better housing for these books. We sorely need libraries closer to the people, whether through more centrally located libraries or through bookmobiles and branch locations. The central fact of our times is this: Books and ideas are the most effective weapons against intolerance and ignorance.
A sensitive Frenchman once said that mediocre minds generally condemn anything that passes their understanding. Mediocre minds cannot survive in a modern world, but enlightened minds can survive.
The library is the best training ground for enlightenment that rational man has ever conceived, and I am so happy that the enlightened Members of Congress and others who supported their activities can participate in this ceremony this morning which they and their children and their children's children will always be proud of.
Note: The President spoke at 11 a.m. in the Cabinet Room at the White House. As enacted, the bill amending the Library Services Act is Public Law 88-269 (78 Stat. 11),
Lyndon B. Johnson, Remarks Upon Signing Bill Amending the Library Services Act. Online by Gerhard Peters and John T. Woolley, The American Presidency Project https://www.presidency.ucsb.edu/node/239930