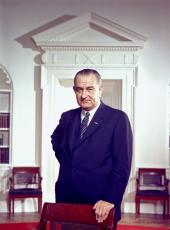 Remarks Upon Receiving Report of the President's Committee on Population and Family Planning.
Secretary Cohen, Mr. Rockefeller, distinguished members of the Committee:
As we meet here this afternoon in the Cabinet Room to receive this report, we all realize and recognize the many critical problems that face all of us who live in today's world. But aside from peace, no problem is more important than the problem of rising population.
Indeed, even peace itself, I don't think, will ever come to us unless this problem of population control is solved. Looking back to where we were just a few years ago, I am very happy to observe this afternoon that I believe this Nation has made some real progress forward.
In 1964, my first year in the Presidency, our budget contained an investment of $6 million from the Federal Government in population and family planning activities. In fiscal 1969, that figure will rise to about $115 million.
During this same period, private organizations and groups concerned with population and family planning have themselves more than doubled their own expenditures. Most important, I think that all of you will agree that there is today a very new and growing awareness of both the magnitude, as well as the danger of this problem that concerns us all.
What I am especially proud of this afternoon is that it is now possible for your President to speak frankly to the people about this matter. But measured against the distance that we have yet to go, our achievements have been very small indeed. That is, as I understand it, the substance of the message that you bring me in this report.
I think, though, that when you see the new budget you will know how seriously your Government takes this entire matter.
I want to thank the members of the Committee for your service to your country and to the President. I am receiving a good many reports these days and making some myself. I intend to study this report quite carefully. I want to see it distributed widely. I certainly am going to try my best to bring this report to the attention of the American people and to the attention of our new President, because like the search for peace, the search for knowledge and mastery of the population crisis is not a partisan matter.
So, Mr. Rockefeller, again, your country is in your debt. You have done for this Nation and the world a real service. To you and all the members of your Committee, I want to say, a hearty thank you, and well done, sir.
Note: The President spoke at 5:40 p.m. in the Cabinet Room at the White House. In his opening words he referred to Wilbur J. Cohen, Secretary of Health, Education, and Welfare, and John D. Rockefeller 3d, Co-Chairmen of the President's Committee on Population and Family Planning.
The report is entitled "Population and Family Planning: The Transition From Concern to Action" (Government Printing Office, 43 pp.).
Remarks by Secretary Cohen and Mr. Rockefeller at the presentation, together with a White House announcement listing the members of the Committee, are printed in the Weekly Compilation of Presidential Documents (vol. 5, pp. 32-33).
For the President's statement of July 16, 1968, upon appointing the Committee, see Item 393.
Lyndon B. Johnson, Remarks Upon Receiving Report of the President's Committee on Population and Family Planning. Online by Gerhard Peters and John T. Woolley, The American Presidency Project https://www.presidency.ucsb.edu/node/236262