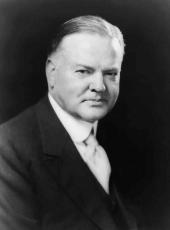 Remarks Upon Laying the Cornerstones of the Department of Labor and Interstate Commerce Commission Building.
IT IS INDEED a pleasure to take this further step in the fulfillment of the magnificent plan for the Nation's Capital. Since George Washington first visioned this city, it has steadily grown nearer to his dream of a fitting symbol of a great people's purposes and energy and power. He foresaw a nation, continental in physical scope, happy in the wise utilization of vast natural resources, secure in the exercise of liberty under laws of its own devising. He wished its Capital to express these facts of the national life. He planned a city spacious in its dimensions, made beautiful by parks and wide avenues, and embellished with the handsomest works of architecture.
The unfolding of this plan in finished works has been a process of growth which at times has seemed almost evolutionary in its slow pace. Yet, this also has been an appropriate expression of the national life. Our institutions are intentionally designed for continuous and evolutionary change, responding to the needs of the time as they arise, and shaping themselves to the changing mold of the people's will. A Caesar would have been impatient to anticipate the future and would have built a glorious city out-of-hand in the primitive wilderness, seeking to mold posterity to his ideas and impoverishing the people in the process. Washington was true to the principles of self-government and to the genius of his race and was content to plan wisely, lay solid foundations, and trust posterity to grow.
The Department of Government that will be housed in this building we are concerned with today is a perfect illustration of the wisdom of this method. There was no Department of Labor in George Washington's day, nor was one even dreamed of. Yet the scheme of government to which he committed this Nation was so adaptable to changing needs that when, three-quarters of a century later, we had evolved from an almost purely agricultural economy into a highly industrialized balance with agriculture, such a department was naturally created and has grown into one of the most important of the Federal agencies. Today we are witnessing the first steps in expressing its importance in terms of marble and steel and the symbolic beauty of architecture.
I take a profound satisfaction in sharing in this ceremony because I take profound pride as an American in the history of labor in this country. No one with a sense of historical perspective can fail to be gratified when he reviews the steady progress made by American labor, not as a class distinction, for of that we have none, but for its expression of leadership in its advances in standards of living in which we all rejoice, and its sense of a full share of civic responsibility in all community efforts looking to an enlarged and enriched opportunity for men and women and children to make the most out of life.
It is peculiarly appropriate that this temple should be erected in full partnership with this great group of Government buildings. Its presence here amongst the buildings dedicated to commerce and agriculture and finance and justice fittingly symbolizes its proper place in the scheme of national life, indissolubly bound up in interest with all the other interests of the people and recognized equally with them by the people as an indispensable element of the Nation and of its Government.
The structure for which we are dedicating the cornerstones this afternoon has been intentionally designed to house two activities of the Government, and while here we are honoring the great Department of Labor this ceremony is being projected by electrical transmission across to the other end of the building where it is being repeated, and a cornerstone for the independent establishment of the Interstate Commerce Commission is being laid simultaneously and in synchronism with the cornerstone being laid here.
I, therefore, now do lay the cornerstones of the Department of Labor and Interstate Commerce Commission Building, and do dedicate it to the use of these agencies of the Federal Government.
Note: The President spoke at ceremonies held at the corner of 14th St. and Constitution Ave., NW., Washington, D.C.
Herbert Hoover, Remarks Upon Laying the Cornerstones of the Department of Labor and Interstate Commerce Commission Building. Online by Gerhard Peters and John T. Woolley, The American Presidency Project https://www.presidency.ucsb.edu/node/207829