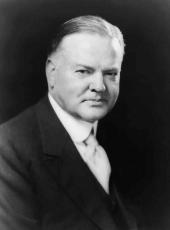 Remarks Upon Laying the Cornerstone of the Department of Justice Building.
A CHIEF GLORY of our Nation is our system of laws, made by our own freely chosen representatives and administered by judges who owe their authority to us. With us, justice rests upon the conscience and reason of the people. It can rise no higher than its source in them. That it is in the main efficient in doing justice, preserving the social order, expediting the normal processes of our daily life and restraining evildoers, is truly a glorious achievement of a democracy.
The building that will rise upon this ground will house men and women dedicated to one of the noblest pursuits of the human mind and spirit, the preservation of the majesty of the people's law, the preservation of the people's rights against evildoers and oppressors, the amelioration of those passions which inevitably arise between rival interests and claims.
The primary reason for established government is the preservation of public peace. Law is the foundation stone of organized society. Its enforcement is the primary task of a civilization. Democracy can hope to endure only to the degree that it can find the means of enforcement of its own laws, even against the most powerfully entrenched of its own citizens. Justice in a democracy knows neither station, position, wealth, nor poverty; and justice can act only with the most efficient, honest organization of the enforcement machinery. For this, public officers and equipment are indispensable, but equally indispensable to their success are the self-discipline and cooperation of the people.
In the design of this building we should substitute for the ancient maxim, "Let justice prevail, though the heavens fall," the more modern conception of democracy, "Justice shall prevail, because that is the people's will."
I now lay the cornerstone of the Department of Justice building and dedicate it in the name of the people of the United States.
Note: The President spoke at approximately 2:30 p.m., in ceremonies held at the corner of 10th Street and Constitution Avenue, NW., Washington, D.C.
Herbert Hoover, Remarks Upon Laying the Cornerstone of the Department of Justice Building. Online by Gerhard Peters and John T. Woolley, The American Presidency Project https://www.presidency.ucsb.edu/node/208144