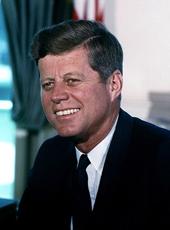 Remarks Upon Arrival at the Airport, San Jose, Costa Rica
Mr. President:
I want to express my warm appreciation to you and to the people of Costa Rica for your welcome to us today.
About 500 years ago, Christopher Columbus, after having discovered Costa Rica, turned from Panama and began his last journey home. He described this fourth voyage as the "High Journey," the high voyage, and I feel in a very real sense that this is a high voyage for all of us who meet today in this free and democratic country. Our high voyage, Mr. President, is not to seek new lands to conquer, but to make sure that old lands remain free. We don't seek gold for a few in our voyage; we seek a better life for all of our people.
Mr. President, the purpose of our meeting is, as you have suggested, to see what our countries, working together, the United States and the countries of the Isthmus, we, working together, can do for our people to make sure that along with a system of political independence, hand in hand will go economic well-being.
It is our responsibility in this hemisphere, in this Isthmus, in my own country in the 1960's, to demonstrate that economic prosperity is the handmaiden of political liberty. That is the responsibility of all of us. If we meet that responsibility, then this country and all countries like it in this hemisphere will remain free. If we do not meet this responsibility, then their inevitable fate will be one of enslavement by those who already have indicated their desire to crush out independence in this hemisphere.
So this meeting is most vital, and I want you to know, Mr. President, that I come here today not only with the Members of the Congress and the Secretary of State and others, but I come here today with 180 million fellow Americans who want this hemisphere to be free, and who want this hemisphere to be an example to a watching world in the crucial years of this century and this decade.
And, Mr. President, I want to express again our thanks to you. We could not feel more at home a thousand miles from the United States than here in Costa Rica.
Note: The President's opening words referred to Francisco J. Orlich, President of Costa Rica.
John F. Kennedy, Remarks Upon Arrival at the Airport, San Jose, Costa Rica Online by Gerhard Peters and John T. Woolley, The American Presidency Project https://www.presidency.ucsb.edu/node/237113