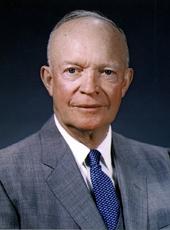 Remarks Upon Arrival at the Airport in London
Mr. Prime Minister and Ladies and Gentlemen:
I appreciate most deeply the kind words you have had to say, Mr. Prime Minister, about the task that falls to the lot of you and myself and our associates in these two governments, but I must say that my deepest reaction and sentiment at this moment is that of extraordinary pleasure--true enjoyment at being once more back again in this land that I have learned so much to love.
Here are some of my warmest and best friends, and with them I hope to renew friendships. And though I know that our primary purpose is to have these talks and conversations, which we hope will be fruitful in promoting the best interests of our two countries, let me say I did not have to come here to assure you or the British people that the American people stand with them, strongly, firmly, and determinedly, in the defense of freedom, liberty, and the dignity of man. You people know that we feel that way. But it is, I think, good that we can have the opportunity to view these changing problems as they are revealed to us, and to counsel together as to how we shall best meet them.
So, as I do myself the signal honor of going to pay my visit upon Her Gracious Majesty, as I speak to you and talk with you and your associates and my old friends, I count on this being one of the most enjoyable and I hope fruitful journeys that I have made to any country in the world.
Thank you very much, Mr. Prime Minister.
Note: The President spoke at 6:50 p.m. in response to the following remarks of welcome of Prime Minister Macmillan:
Mr. President:
It is my privilege to welcome you to British soil, on behalf of all the people of the United Kingdom, without any distinction of party or of creed.
You, sir, under the Constitution of the United States hold the office both of Head of State and of the Chief Executive Minister. Although you are primarily here in the second capacity for political discussions of great importance we are glad to know that you are also to pay an informal visit to Her Majesty at Balmoral.
Mr. President, the programs which face our two countries, together with our allies, are difficult and complex. Your initiative towards their solution is a source of immense satisfaction to us all in Britain, and I think I may say throughout the Commonwealth. We feel them all the more, because you, sir, are a President whose name was a household word to all of us, even before you were elected to your high office. We entrusted to your charge in two theaters of war the most powerful forces which the British people ever raised, and worthily you discharged their task.
We have equal confidence that as leader of a great sister democracy, you will carry through your task with the same courage and the same success.
Dwight D. Eisenhower, Remarks Upon Arrival at the Airport in London Online by Gerhard Peters and John T. Woolley, The American Presidency Project https://www.presidency.ucsb.edu/node/235285