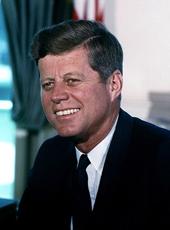 Remarks Upon Arrival at Miami International Airport.
Governor Bryant, your distinguished Governor, your senior Senator, my friend and colleague George Smathers, your Congressmen Dante Fascell and Claude Pepper, who speak for Dade County and Miami and this section of Florida, and also for the United States, the Congressman from Tampa, Sam Gibbons, my old friend Mayor High, and the associated mayors who come with him, ladies and gentlemen:
I have been making nonpartisan speeches all day and I am glad to come here as a Democrat and express my pleasure to speak as a Democrat. If there are any Republicans here, this is a Democratic message that I am about to give. I want to give them fair warning.
Woodrow Wilson once said that a political party is of no use unless it is serving a great national purpose. I believe that the Democratic Party in this century has served a great national purpose here in the State of Florida, here in this county, and here in the United States.
We have been, for the last 3 years, attempting to build upon a framework and platform built by other distinguished Democratic Presidents who went before, Harry Truman and Franklin Roosevelt, who make it possible for us to live in a secure and growing country, in a world in which our vital interests are now being protected, and I can assure you will be protected in the future. What is it we want to do? It is pretty simple. What we want to do is make it possible in this decade to educate our children so that all children of talent can develop those talents and make something of themselves and their families. Therefore, this State in supporting a $75 million bond issue, which you did 2 or 3 weeks ago, to make it possible to provide facilities for your sons and daughters to go to college, are trying to do in this State what I want us to do across the Nation; to provide loans for boys and girls who couldn't go to college, to go to college. Is that socialism? I want to see us assist colleges to provide dormitories and classrooms, to take care of the 7 1/2 to 8 million boys and girls who are going to try to go to college in 1970, and will if we make the right decisions now.
And then I want to see this country provide an economic growth rate to make it possible for all those people, who want to find a job, to work. The United States today, I am proud to say, in the last 18 months has had the highest growth rate, nearly, of any country in the West, a higher growth rate, which we never expected before, exceeding France and Germany, and every country in Western Europe but two. And we will, by January of 1964, have seen an income increase of $100 billion in the last 36 months. That is what we want to do. So we want to educate our children. We want to educate our children. We want to provide jobs for our people.
And thirdly, we want to provide security for them in their older age. Franklin Roosevelt began it in social security, and we are going to contribute to it in providing assistance for those who desire medical assistance as they retire after the age of 62 or 65. Those are some of the things that we want to do.
I know there are those who are opposed to it. They opposed everything Franklin Roosevelt tried to do. They opposed everything that Harry Truman tried to do. And now in 1963 when we stand as we do for progress, we still have those who say, "No. Stop. Let's just forget it." I don't think we want to forget it. I think a majority of the people of the United States are committed to the movement forward of Florida and this country. Cape Canaveral and all the rest symbolize a growing Florida and a growing country.
So I am glad to come here today. I am going to come back next year and make a longer speech. But I want to express my thanks to all of you. In 1960, which was not so long ago, we carried this county by 65,000 votes or so. This is a great Democratic county in a great Democratic area, in a State which I am convinced is going to be Democratic in 1964 in a Democratic country. Thank you very much.
Note: The President spoke at 5 p.m. at a Democratic rally held upon his arrival at the International Airport at Miami. In his opening words he referred to Governor Farris Bryant, Senator George A. Smathers, and Representatives Dante B. Fascell, Claude Pepper, and Sam M. Gibbons, all of Florida, and to Mayor Robert King High of Miami.
John F. Kennedy, Remarks Upon Arrival at Miami International Airport. Online by Gerhard Peters and John T. Woolley, The American Presidency Project https://www.presidency.ucsb.edu/node/236743