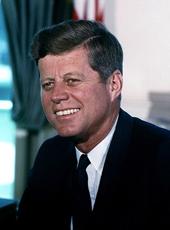 Remarks Upon Arrival at Dublin Airport
Mr. President:
There are many reasons why I was anxious to accept your generous invitation, and to come to this country. As you said, eight of my grandparents left these shores in the space, almost, of months, and came to the United States. No country in the world, in the history of the world, has endured the hemorrhage which this island endured over a period of a few years for so many of her sons and daughters. These sons and daughters are scattered throughout the world, and they give this small island a family of millions upon millions who are scattered all over the globe, who have been among the best and most loyal citizens of the countries that they have gone to, but have also kept a special place in their memories, in many cases their ancestral memory, of this green and misty island. So, in a sense, all of them who visit Ireland come home.
In addition, Mr. President, I am proud to visit here because of you--an old and valued friend of my father--who has served his country with so much distinction, spreading over the period of a half-century; who has expressed in his own life and in the things that he stood for the very best of Western thought and, equally important, Western action.
And then I am glad to be here because this island still fulfills a historic assignment. There are Irishmen buried many thousands of miles from here who went on missions of peace, either as soldiers or as churchmen, who traveled throughout the world, carrying the gospel as so many Irish have done for so many hundreds of years.
So, Mr. President, with the special pride that I feel in my own country, which has been so generous to so many immigrants from so many different countries, I want to say that I am happy to be here tonight.
Note: The President spoke at 8 p.m. His opening words "Mr. President" referred to Eamon de Valera, President of Ireland.
John F. Kennedy, Remarks Upon Arrival at Dublin Airport Online by Gerhard Peters and John T. Woolley, The American Presidency Project https://www.presidency.ucsb.edu/node/236919