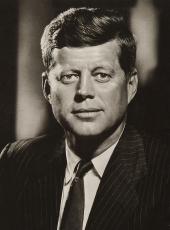 Remarks Upon Activating by Remote Control the Saline Water Conversion Plant at Freeport, Texas.
Ladies and gentlemen:
The dedication of the conversion plant at Freeport, Texas, today is an important step towards the achievement of one of man's oldest dreams: securing fresh water from salt water.
The Government of the United States and the people of this country take pride in this research enterprise which holds such high promise for meeting one of man's basic needs in areas where nature has not been generous.
I want to express the congratulations of the people of this country to the men and women who've been involved in this work, to the Dow Chemical Company, to those who work in Freeport, Texas, to scientists and engineers who've been involved in this enterprise.
I might say that I can think of no cause and no work which is more important, not only to the people of this country but to people all around the globe, especially those who live in deserts or on the edge of oceans.
I am hopeful that the United States will continue to exert great leadership in this field, and I want to assure the people of the world that we will make all the information that we have available to all people. We want to join with them, with the scientists and engineers of other countries, in their efforts to achieve one of the great scientific break-through of history.
I'm sure that before this decade is out, that we will see more and more evidence of man's ability at an economic rate to secure fresh water from salt water, and when that day comes then we will literally see the deserts bloom.
This is a work which in many ways is more important than any other scientific enterprise in which this country is now engaged. It serves the interests of men and women every place. It can do more to raise men and women from lives of poverty and desperation than any other scientific advance.
It's a matter of great interest to me. It's a matter of the greatest interest to the Vice President who, living as he does in the State of Texas, has seen throughout his life how important it is that fresh water be secured. And it is for that reason that he is there today in Freeport, participating in this dedication.
I congratulate you all, and I think that you serve very well the interests of our country and the cause of humanity in general; and therefore it is a great pleasure for me, on behalf of the people of this country, to press this button which will cause this project to begin to work. In addition to getting fresh water from salt water, we will also get minerals from the sea as a result of this effort. One of the minerals which we believe will be secured is magnesium, and I think that it's part of this button and helps establish the current, which indicates where science is now taking us.
Note: The President's remarks, spoken in the Fish Room at the White House, were carried by telephone to the ceremonies at Freeport, Tex.
John F. Kennedy, Remarks Upon Activating by Remote Control the Saline Water Conversion Plant at Freeport, Texas. Online by Gerhard Peters and John T. Woolley, The American Presidency Project https://www.presidency.ucsb.edu/node/234921