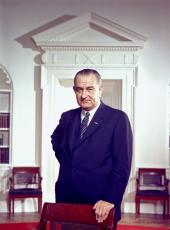 Remarks Upon Accepting the New Presidential Limousine Commissioned by the Secret Service.
WE AMERICANS are not always united on everything, but I am sure that there is no division among us upon the propriety and necessity of protecting our President and Vice President.
For many years now, and particularly in recent years, two organizations have combined their talents to try to give the traveling President maximum safety not only in this country, but wherever he may travel abroad.
The Secret Service organization is made up of one of the most dedicated groups of people in Government. They are headed by career men, Mr. Rowley, Mr. Youngblood, Mr. Johns, Mr. Hill, Mr. Taylor, and others whose constant thought is the safety of the President and the Vice President and all of those for whom they have responsibility.
It is rather remarkable how they give that protection. I could speak hours about it and never tell the whole story.
The Ford Motor Company for many years, has cooperated with them in providing transportation. They have done it at great sacrifice from the standpoint of dollars and the standpoint of personnel and the standpoint of convenience, because through the nights they have had to move automobiles and move men and move machinery.
I am sorry that two people can't be here this morning, Mr. Henry Ford, who directed the building of this new car, and my grandson, who is really a mechanic at heart and who likes to play with everything electronic. I doubt that either Mr. Ford or my grandson will have any occasion to use this new automobile, because it is coming at the end of my term and will be used by whoever succeeds me and the Vice President who accompanies him.
To you in the press, and in these two unique organizations, I think you are all of one mind that this will give maximum protection and provide unusual convenience for Presidents at home and abroad.
I think you can see there that the President doesn't have to stand on a fender anymore or get out in a crowd. He can still be in contact with them and they can see him and make judgments for themselves by looking him in the eye and even touching his hand occasionally. And the Secret Service can still provide the protection they like.
So, on behalf of the next President and this President, certainly in honor of the Secret Service organization and the Ford Motor Company, I am glad to receive this automobile this morning. It is the best that the Ford Motor Company can do, and that is saying a lot.
I don't plan to ever engage in any private business of any kind. I am going to take things a little easier than the competitive free enterprise situation will let you, but if I were going to, I would like to be associated with dedicated people like the Secret Servicemen, and have them in my organization. And I would hate like the dickens to compete with Ford.

Thank you.
Note: The President spoke at 12:47 p.m. at the South Portico of the White House. During his remarks he referred to James J. Rowley, Director, Rufus W. Youngblood, Deputy Director, Thomas L. Johns, Assistant Director of Protective Forces, Clinton J- Hill, Deputy Special Agent, Presidential Protective Division, and Robert H. Taylor, Special Agent in Charge, Presidential Protective Division, U.S.. Secret Service.
The 21-foot custom-built limousine, providing new security, communications, and engineering features, was leased to the Government by the Ford Motor Company.
Lyndon B. Johnson, Remarks Upon Accepting the New Presidential Limousine Commissioned by the Secret Service. Online by Gerhard Peters and John T. Woolley, The American Presidency Project https://www.presidency.ucsb.edu/node/236981