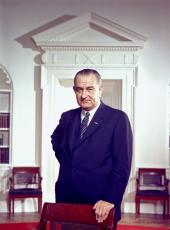 Remarks Upon Accepting Report of the Commission on Registration and Voting Participation
I am pleased to receive today the report of the Commission on Registration and Voting Participation. The Commission is here with me this morning to witness the signing of the extension of the President's Commission on Registration and Voting Participation, and very shortly I will sign that Executive order.
President Kennedy's action in appointing this Commission was motivated by his deep commitment to the principles of democracy. This report is the result of a very long and very serious study. I want to express my gratitude to this bipartisan Commission for the excellent job they have done and for the results of their efforts.
We should be deeply concerned that less than two-thirds of Americans of voting age cast ballots in Presidential elections. In other words, one out of every three qualified Americans does not vote in a Presidential election, and less than half do so in elections for Members of Congress. So it is disturbing that our national record of voter participation compares so unfavorably with other democratic countries.
This report identifies many of the causes for this. It calls attention to the little recognized fact that restrictive statutes and procedures deny many of our citizens the right to register and vote, or at least make it difficult or virtually impossible for them to do so. Such denials contradict one of the basic principles upon which this Nation was founded, the principle of government by the consent of the governed.
The Commission has made an important contribution to improving our democratic system by offering specific recommendations to meet the problem. These recommendations are directed to the States. Great disparity exists among the States in their election laws and practices, but even the most advanced State can profit by measuring its own electoral machinery against these recommended standards that we have put in the report.
In that regard, the Commission's proposal that each State establish a State body to review its election laws in the light of this report is both constructive and desirable. I am hopeful that in each State where such a review is not already underway the Governor and legislative leaders will give serious consideration to this suggestion. I shall send a copy of the report to each Governor with that request.
The report is useful in that it points out the problem and suggests remedies, but the solution depends upon further action. In order to provide impetus for consideration of the Commission's proposals by the individual States and to provide further information and services for those States desiring assistance, I am today issuing an Executive order extending the life of the Commission on Registration and Voting Participation until March 30, 1964. The members of the Commission have graciously consented to continue serving.
I am also very hopeful after a conversation with Senator Holland, who is author of the repeal of the poll tax amendment, that by that time we can have action taken by other States that will assure that the poll tax will be repealed.
I call upon both political parties, Republicans and Democrats, the Governors and officials of each State in the Union, and all citizens, to join this effort. Only through concerted action can we secure for all the right to vote without unnecessary or unreasonable restrictions.
For instance, I am told that it is easier today to buy a destructive weapon, a gun, in a hardware store, than it is to vote. The whole problem that we have in each State in this Union, in each precinct in each State, is to make it easier for people to vote instead of harder. Why should we make it difficult for people to vote? It is easier now to register and enlist in the service in many cases than it is to vote. Why should a man have an easy path provided for him to go and fight, but a difficult path for him to go and vote?
So I would say we should make it as easy for a man to vote as for a man to serve in the armed services. I am hopeful that in the next presidential election three out of every three eligible voters will vote for their President instead of only two out of every three.
Note: The President spoke at 9:45 a.m. in the Cabinet Room at the White House. The Commission's report, entitled "Report on Registration and Voting Participation," is dated November 1963 (Government Printing Office, 69 pp.).
On the same day, the President issued Executive Order 11134 providing for extension of the Commission to March 30, 1964 (28 F.R. 14207; 3 CFR, 1963 Supp., p. 209).
For President Kennedy's statement upon establishing the Commission see 1963 volume, this series, Item 117.
Lyndon B. Johnson, Remarks Upon Accepting Report of the Commission on Registration and Voting Participation Online by Gerhard Peters and John T. Woolley, The American Presidency Project https://www.presidency.ucsb.edu/node/241590