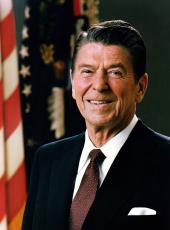 Remarks to United States Olympic Medal Winners in Los Angeles, California
Thank you, Bill Simon, and thank you all very much. As the newest member of the team, I'm trying to figure out how I qualify. [Laughter] In high school, there was the 880 relay. But we only finished second in the State finals in that. And then there was swimming, but in my day we didn't do a flip turn. So, I'd have to learn that if I am going to qualify in that.
But anyway, ladies and gentlemen of America's team at the 23d Olympiad—and Bill Simon has said it all—you did us proud. You're heroes, every one of you living proof of what happens when America sets its sights high and says, "Let's create a little excellence."
And you gave us moments that we'll never forget. There was Blatnick dropping to his knees in thanks. And Mary Lou Retton getting that perfect 10. There was Steinseifer and Hogshead hitting that wall at the exact same hundredth of a second. And Carl Lewis' smile when he tied Jesse Owens' record.
There was something very special about the Olympics; there was a special spirit to it. You gave us all such a lift. You gave us something to be unified around and cheer for together. And I think maybe you possibly heard down on the field that cheer. It went something like, U.S.A.! U.S.A.! Well, it doesn't matter whether you won the gold or the silver or the bronze; the cheer was for you, and for all of you.
The specialness of this Olympics was apparent from the beginning. You walked into the opening ceremonies with a special kind of pride, a vibrant and a very human delight that was transmitted to the crowds and that was picked up by the people who were watching on TV. Throughout the games, I couldn't help but think that if the people of the world judged Americans by what they saw of you, then they think, "Americans? Well, they're generous and full of serious effort; they're full of high spirits; they're motivated by all the best things. They're truly a nation of champions."
And I want to take a moment here to single out and say thank you to the uncelebrated story and the people—your coaches and trainers, your parents and friends—all the quiet people who stood behind you when the shot rang out and the race began. And, yes, those you may have defeated, but whose own efforts helped push you to do your best. Every hero knows that no hero does it alone. The people who stood behind you deserve our thanks. And the way I see it, there ought to be an Olympic event in moral support, and they'd get a perfect 10. I want to say, too, that the city of Los Angeles did a marvelous job, and there are a lot of terrific people in this town. Just about everyone in this city had to put him or herself out some way, one way or another, while the games were on. They not only did it; they did it with a smile. They won the admiration and the thanks of the entire country.
This is a good time also to thank the generous corporations that decided a few years back to contribute money and personnel and time to help our athletes. They proved that the profits reaped from a free economy can be used to help our young people compete on an even footing with the state-subsidized athletes of other countries. Those corporations did us proud. And so did Bill Simon, who led this great citizens effort. So did the Los Angeles Olympic Organizing Committee and the U.S.. Olympic Committee.
The 23d Olympiad of the modern era is over, but it will never be forgotten. It was attended by more countries than ever before. There was more competition than ever before. There was more brilliant talent than ever before. And, as you know, a lot of records were broken.
The games were a triumph, a triumph of friendly and generous competition, a triumph of fellowship, and a triumph of the spirit. And it turned out that nothing could mar those games, nothing could detract. The only losers of the 23d Olympiad were those who didn't or couldn't come.
As for those who did, what greatness they and you all showed us. I know you're impressed by the athletes the other countries sent—the South Korean boxers, the Chinese gymnasts, the Romanian athletes, the Jamaicans, the Japanese. For a lot of us, one of the really indelible images of the games was of Gabriela Andersen-Schiess of Switzerland walking dazed and dehydrated to the finish line, refusing to give up, pushing on even when all her strength was gone, summoning up just that last bit of reserve and crossing that line. She truly was heroic.
And I have just a final point here. One of the things I noted and liked so much as I
watched the games on TV was that often in many of the events, you could sort out or figure out who represented what country, except with the American athletes. With the American athletes, we almost always had to see the U.S.A. on your uniforms, because our team came in all shapes and sizes, all colors and nationalities and races and ethnic groups. And I was thinking, you can talk on and read forever books about the melting pot; but the past 2 weeks, there it was winning medals for us, representing us every day—140 countries represented here in the only place in the world where those who are competing for this nation had the bloodlines and the background of more than those 140 countries.
And so, I say to you, the great melting pot team of 1984, the members of America's team at the 23d Olympics, thanks for the memories and thanks for the great moments and thanks for being what you are, genuine heroes.
And you know what, 1984 has a kind of special significance for me. [Laughter] I'm finding it to be a very interesting year. But after what I saw of you and what you did at those Olympics, I can't wait till '88. [Laughter] Just can't wait.
Thank you all very much, and God bless you.
And now, you remember that right before the games you gave me a gift of all your Olympic teams pins. And today I want to return the favor. I have a gift for the future U.S.. Olympics Hall of Fame. It is the American eagle and is given to honor the members of America's team at the '84 games, because you've soared to greatness.
Note: The President spoke at 10:31 a.m. in the Los Angeles Ballroom at the Century Plaza Hotel. He was introduced by William E. Simon, president of the U.S.. Olympic Committee.
Prior to his remarks, the President was made an honorary member of the U.S.. Olympic team with the presentation of an Olympic blazer by medalists Steve Lundquist and Mary Lou Retton.
Ronald Reagan, Remarks to United States Olympic Medal Winners in Los Angeles, California Online by Gerhard Peters and John T. Woolley, The American Presidency Project https://www.presidency.ucsb.edu/node/261826