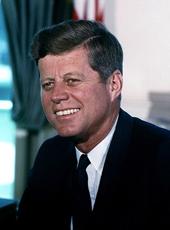 Remarks at United States Military Headquarters in West Berlin.
General:
First of all I would like to present two people who are traveling with us, both well known to all of you. The first is the United States Ambassador to the Federal Republic, Ambassador George McGhee; and, secondly, a veteran of Berlin and many struggles, Gen. Lucius Clay.

I want to express my warmest thanks to all of you who serve in the Armed Forces of the United States, and also your wives and children. There are not many Americans here in West Berlin. This is a small force relative to the thousands of troops which surround this city. And yet in a very real sense this small force and the forces of France and Great Britain have played a very real role in maintaining the independence of this vital city for many, many years. And in maintaining the independence of West Berlin, you play a significant role in the defense of Western Europe, the freedom of which is essential to the United States.
But in all of our long history, including particularly the history of the 19th century when there were many beleaguered garrisons, no garrison served under comparable conditions, in territories surrounding it so dangerous and with the adversaries so numerous.
So the question of course is, what is your role? Well, you know it very well. Your presence here, your lives, in fact, commit the United States of America, the several thousands of troops that are here, the several thousands of French and British troops, commit the 180 million people of the United States whose sons and brothers you are, as it commits the people of France and Great Britain.
But you are more than hostages. You are also an effective force on your own, because you are part, in a sense the arrowhead, of a long line of your colleagues in arms who also stand guard and watch in dozens of countries stretching all around the globe. Stretched thin, even though there are a million of them, so great are our commitments, but stretched thin it is finally their determination and the will and perseverance, and perhaps most important of all the perseverance of our fellow Americans, that makes good on these commitments, and makes those countries that we have guaranteed be sure of our word. For 18 years this has been done, and it will be done in the future. And I take great pride and satisfaction in speaking on behalf of all Americans who are far away in expressing our thanks and esteem to all of you. We are proud of you and we appreciate what you are doing, and the warm welcome that all of us have received in Berlin and the Federal Republic indicates that you live among friends.

Thank you.
Note: The President spoke at 4 p.m. His opening word "General" referred to Maj. Gen. James H. Polk, U.S. Commander, Berlin.
John F. Kennedy, Remarks at United States Military Headquarters in West Berlin. Online by Gerhard Peters and John T. Woolley, The American Presidency Project https://www.presidency.ucsb.edu/node/236891