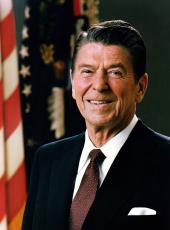 Remarks to United States Athletes at the Summer Olympic Games in Los Angeles, California
Thank you, Bill Simon. This is a genuine pleasure for me and for Nancy. We've been avid sports fans, and I have been all my life. And to be with you here, the men and women who will be wearing our colors in the 23d Olympiad of the modern games is a memory I know we're going to cherish.
I'm certain that you'll remember these games as the highlight of your life as well-and not just the games. You've been preparing for this competition for many years. You know better than most it isn't just the will to win that counts; it's the will to prepare to win. And from what I see here, we're ready.
I see some familiar faces. I've enjoyed following your progress. When I visited you at the Olympic Training Center in Colorado Springs a while back, you all gave me an official warm-up suit. I've been using it just before meeting certain Members of the Congress. [Laughter] I also received a little gift from our ice hockey team—a hockey puck inscribed, "The puck stops here." [Laughter] Believe me, I've put that one to good use, too.
I want you to know just how proud all of us are to have you representing us. And when you see us out on the stands waving Old Glory, you know that we're waving it for you.
The same spirit is evident all across this land. Back in the middle of May, I met the official Olympic torch carrier at the White House. As that flame has made its way across America, it's been greeted with cheers, accolades, and flags, by young and old, Americans of every race and religion.
Journalists have described and analyzed this outpouring of unity and positive feeling. They also noted that this year's Fourth of July celebrations were extraordinarily joyous occasions. There is a new patriotism spreading across our country. It's an affection for our way of life, expressed by people who represent the width and breadth of our culturally diverse society. And the new patriotism is not a negative force that excludes, but a positive force, an attitude toward those things that are fundamental to America, that draws together our freedom, our decency, our sense of fair play as a people.
In so many ways, you represent this new spirit. I know I speak for all your fellow citizens—no matter what political persuasion, no matter what race or religion, no matter if poor, middle class, or affluent-when I tell you that you are our team. And each and every one of you, well, we're with you a hundred percent.
During these games, you'll be competing against athletes from many nations, but most important, you're competing against yourself. All we expect is for you to do your best, to push yourself for one more fraction of a second or one notch higher or one inch further. Each time you do that, you've created a magic moment of beauty and excellence in which all of us will share.
The American ideal is not just winning; it's going as far as you can go. If by pushing yourself to the limit you set a record or win a medal, you'll hear us. We'll probably look a little silly expressing our pride in your accomplishment, but our affection and pride is something that you can count on. We'll be cheering—win, lose, or draw.
These games are the culmination of the work and dedication of thousands of people. I think Peter Ueberroth has done an exceptional job. United States Olympic Committee President Bill Simon has assured me you're the best team ever. And Bill, himself, deserves our special thanks for all that he's done. And of course, I'd like to mention your executive director, Don Miller, and all the coaches and managers who've made this possible, and these captains who are here on these steps with us.
This has been a team effort all the way. Corporations have done their part. Individual contributions have played a major role. Those who couldn't give money, volunteered—I understand 50,000 volunteers here, backstage—to get these games underway. They've been donating their time and energy to the success of the games.
Special recognition should go to Rafer Johnson and Donna de Varona and their Olympic Spirit Team. These Olympians have put out an enormous effort on your behalf and on behalf of the Olympics. And today you are joining this special fraternity of individuals who have competed in previous Olympics. It's an honor no one can take away from you.
Many years ago, believe it or not, I competed in sports, and coaches were known for spurring us on with some pretty punchy phrases and dialog—or monolog. And looking back now, I realize those coaches were just as excited at the time as we were. And the same is true right now, you can be certain of that. We're all in this together. And we know that we can count on you to push yourselves to the limit.
So, set your sights high, and then go for it. For yourselves, for your families, for your country—and will you forgive me if I just be a little presumptuous—"do it for the Gipper." [Laughter]
God bless you all. We'll be watching. Thank you all.
Note: The President spoke at 1:52 p.m. at Heritage Hall on the campus of the University of Southern California, site of one of two Olympic villages for participating athletes. Following his remarks, he went to the Los Angeles Memorial Coliseum to participate in the opening ceremonies of the games.
Following the ceremonies, the President left Los Angeles and traveled to Rancho del Cielo, his ranch near Santa Barbara, CA, to begin a 3-week vacation.
Ronald Reagan, Remarks to United States Athletes at the Summer Olympic Games in Los Angeles, California Online by Gerhard Peters and John T. Woolley, The American Presidency Project https://www.presidency.ucsb.edu/node/261680