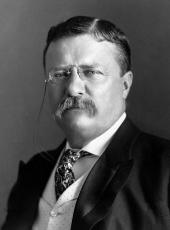 Remarks in Trinidad, Colorado
My friends of Colorado:
I cannot say what a pleasure it is to be back with you again. You know how proud I am of your State, how I believe in the whole Western country, and here I see men of my old regiment who were with me in the days that will remain most vivid in my mind. I wish to thank the men of the National Guard for coming out as my escort. It is a pleasure to see them and have them think of us veterans of the late war. Let me say how glad I am to see the school children's faces. I was going to say that I believe more in children than I do in irrigation and you know I am all right on irrigation. It is essential for the welfare of the State that it should keep up its standard of citizenship and that standard of citizenship can only be kept up as you are keeping it up here.
Just one word about irrigation. I was immensely interested by the great work that I passed through just outside of the city. There is no one thing, possibly excepting Panama, that I feel is more essential in connection with this administration than the part taken by the national government in helping the irrigation movement in the West.
I think our own people have but a faint idea of the amount that can be done with it.
I have come to Colorado this time on a holiday, but I am so glad on the way to have the chance to say just a few words of greeting to the people themselves. I am immensely touched and pleased at your coming out to greet me and I only wish I had the chance to discuss with you at length all the problems of our government, for it seems to me that—well, I can't do it now. Good-bye, Good-bye.
Theodore Roosevelt, Remarks in Trinidad, Colorado Online by Gerhard Peters and John T. Woolley, The American Presidency Project https://www.presidency.ucsb.edu/node/343719