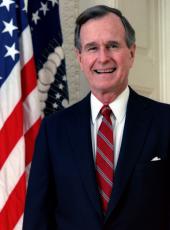 Remarks on Transmitting to the Congress Proposed Legislation To Amend the Clean Air Act
Welcome to the steamy Rose Garden, Mr. Speaker and distinguished Members of the Congress.
Something that was truly striking during my recent travels in Europe was this genuine excitement and enthusiasm spreading about the environmental issues. And the economic summit in Paris was largely devoted to the environment and what it means for the quality of life on our planet. Our neighbors abroad feel a sense of shared commitment. They're cooperating to find solutions, and we're working very closely with them.
Around the world, in efforts to clean up the environment, we, the United States of America, are taking the lead. And the next step now is congressional action. And let me make one thing very, very clear: Clean air is too important to be a partisan issue. Anyone who allows political bickering to weaken our progress against pollution does a tragic disservice to every city in America and to every American in this country who wants and deserves clean air. And we've worked very hard on both sides of the aisle to craft a proposal that, for the first time in two decades, makes new progress for clean air.
The Clean Air Act that I'm sending to Congress today has been made possible thanks to the outstanding efforts and the bipartisan support of Republicans and Democrats alike. Protecting the world's shared natural heritage must be a global, universal priority. Just as environmental problems respect no borders, our solutions must transcend political boundaries. And that's why we're here today, and that's why this legislation is such good news: It brings us one step closer towards clean air.
The reforms we're proposing to the Clean Air Act represent thousands of hours of careful analysis, negotiation, and cooperation. And the right questions have been asked, and together, we are finding the right answers. To make the Clean Air Act effective, you all know the great range of concerns that have to be balanced. Economic growth and job creation, environmental protection, mobility, unfettered commerce are all priorities that have to be considered; and they have been in our work here. In drafting this legislation, we've reached out. We've heard from groups all across the spectrum, and we've listened to, appreciated, and certainly benefited from their comments. Environmentalists, industry leaders, Members of Congress, experts from the science and academic area -- leaders from every quarter have all shown the wisdom and will to make clean air the birthright of every American.
I am pleased and proud to see that many of you have decided to cosponsor this bill. and I can't thank you all enough, because clean air, once again, is a bipartisan issue. I've requested Senators Burdick and Chafee and Congressmen Dingell and Lent -- Norm -- to be the bill's prime sponsors, and if this bill becomes law, all of you will have earned the gratitude and respect of generations to come.
This piece of legislation will see to it that every American, in every city in America, will breathe clean air. It will stop the degradation that's been caused by acid rain by the end of this century. And it will cut airborne toxic chemicals from major sources by at least 75 percent.
Those are the goals that I outlined back in June. But the bill does more than set bold objectives. It meets those goals in economically efficient ways -- tapping the power of the marketplace, encouraging flexibility, calling on American ingenuity in areas like alternative fuels, and relying on the talents and insights of those affected to find the solutions. This bill matches the letter and the spirit of my speech and the fact sheet on June 12th. And while I'll leave you to read the legislation, there are a few specifics that I want to just briefly touch on here.
First, this is one of the most aggressive pieces of environmental legislation competing on the Hill. It will, for example, reduce sulfur dioxide emissions by 2 million tons more than the most popular acid rain bill currently in the House.
And second, for the reductions in airborne toxic chemicals we seek, this legislation calls for some very tough standards. New sources must do more than match existing average-control technology. They must be as good as the best. Our regulations will ensure that every industrial plant in the country has the best available control technologies that we know of in practice.
And third, we've proposed a streamlined permit system for all of the Clean Air Act's requirements to ensure that each source meets all applicable limits for air toxics, smog, and acid rain.
And finally, this legislation has teeth. It provides tough sanctions for cities that don't make reasonable efforts and significant progress. And to deter future crimes against the air we breathe, any individuals who willfully violate the Clean Air Act will face felony-level criminal sanctions -- that will be carefully, definitively applied, however. This bill makes sure that the polluters will pay.
And it's time to break the gridlock on this issue. It is time to cooperate for clean air by passing a new Clean Air Act this year. Bill Reilly, our able [Environmental Protection Agency] Administrator, and trusted Secretary of Energy Jim Watkins and I will work closely with you Members on the Hill to make clean air the law of this land. Americans deserve it. I am absolutely convinced that this Congress can achieve it.
And thank you all for coming down here today. And now we'll formalize this by one signature, and thank you all.
Note: The President spoke at 2:02 p.m. in the Rose Garden at the White House. In his remarks, he referred to Thomas S. Foley, Speaker of the House of Representatives.
George Bush, Remarks on Transmitting to the Congress Proposed Legislation To Amend the Clean Air Act Online by Gerhard Peters and John T. Woolley, The American Presidency Project https://www.presidency.ucsb.edu/node/262995