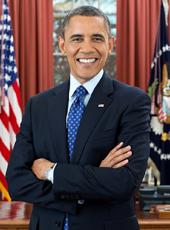 Remarks at a Town Hall Meeting with Veterans and Military Families in Washington, Pennsylvania
It's an honor to have the support of so many veterans across the great state of Pennsylvania, including so many brave men and women who served in Afghanistan and Iraq. This includes my friend Congressman Patrick Murphy, and my Pennsylvania veterans coordinator Koby Langley. We've seen a tremendous grassroots effort, as these young vets have organized, held meetings, and gone door to door to talk about the change we need to bring to Washington.
As a candidate for President, I know that I am running to become Commander-in-Chief - to safeguard our security, and to keep a sacred trust to serve our veterans as well as they have served us. There is no responsibility that I take more seriously. Because America's commitment to our servicemen and women begins at enlistment, and it must never end.
Without that commitment, I probably wouldn't be here today. My grandfather - Stanley Dunham - enlisted after Pearl Harbor and went on to march in Patton's Army. My grandmother worked on a bomber assembly line, and my mother was born at Fort Leavenworth. After my grandfather stood up for his country, America stood by him. He went to college on the GI Bill, bought his first home with help from FHA, and moved his family west to Hawaii, where he and my grandmother helped raise me. Today, he is buried in the Punchbowl, the National Memorial Cemetery of the Pacific, where 776 victims of Pearl Harbor are laid to rest.
I knew him when he was older. But I think about him now and then as he enlisted - a man of 23, fresh-faced with an easy smile - when I meet young men and women signing up to serve today.
These sons and daughters of America are the best and the bravest among us. They are a part of an unbroken line of heroes that overthrew a King; freed the slaves; faced down fascism; and fought for freedom in Korea and Vietnam, from Kuwait to the Balkans. Today, they are serving brilliantly in the face of grave danger in Afghanistan, Iraq and around the world.
When our troops go into battle, they serve no faction or party; they represent no race or region. Instead, each and every one of them serves together, and fights together, and bleeds together for our highest ideals; the ideal summed up here in Pennsylvania by President Lincoln - government of the people, by the people, and for the people.
We honor their service to this ideal every time we fly the flag. But the true measure of our patriotism is not taken on Veterans Day or Memorial Day - the true measure is how we provide for those who serve, and for their families, after the guns fall silent and the cameras are turned off. And it is my strong belief that over the last few years, we have not always kept that sacred trust - we have not served our veterans as well as they have served us.
We've heard rhetoric that hasn't been matched by resources. We've seen second-rate conditions at Walter Reed. We've had unpredictable and insufficient time for our troops at home between deployments. Our military families have been left to fend for themselves while spouses and parents are sent to fight tour after tour after tour of duty. It's not acceptable. You cannot lead this country into war, and then fail to care for those who have served, and for their families.
It starts with protecting the fundamental rights of our troops. They have fought across the world so that others have the right to vote, but here at home, the Bush Administration has refused to help wounded warriors register. There is nothing patriotic about denying wounded troops the ability to vote. It's time for the VA to do the right thing. It's time to reverse this shameful decision.
It's also time to be straight with the American people about the sacrifices that are being made. For years, this Administration has refused to count all of our wounded men and women in uniform. In Iraq alone, tens of thousands of troops who were injured or fell ill have not been counted in our casualty numbers, going against the military's own standards from past wars. It's time to stop hiding the full cost of this war. It's time to honor the full measure of sacrifice of our troops, and to prepare for the cost of their care.
I am running on a record of standing up for wounded warriors on the Senate Veteran's Affairs Committee, an assignment I sought out when I joined the Senate. I led a bipartisan effort to improve outpatient facilities, slash red tape, and reform the disability process - because recovering troops should go to the front of the line, and they shouldn't have to fight to get there. And anyone who has visited a military hospital has seen spouses who don't see visiting hours as part-time. That's why I passed legislation to give family members health care while they care for injured troops, and introduced a bill to give family members protection so they don't have to choose between caring for a loved one and keeping a job.
I've also worked to confront the signature injuries of the wars in Iraq and Afghanistan - PTSD and Traumatic Brain Injury. For far too many troops and their families, the war doesn't end when they come home. That's why I've passed measures to increase screening for these unseen wounds, and helped lead a bipartisan effort to stop the unfair practice of kicking out troops who suffer from them. And when I'm President, we'll enhance mental health screening and treatment at all levels: from enlistment, to deployment, to reentry into civilian life.
We have called on our troops and their families for so much these last few years, but we haven't always issued that call responsibly. It's not enough to restore twelve month Army deployments - we need to restore adequate training and time at home between deployments. And we must recognize that when we deploy our troops, our military families also go to war. That's why we need to provide more counseling and resources to help families cope with multiple tours.
And we know that the sacred trust does not end when the uniform comes off. That's why it's time to build a 21st century VA. No more red tape - it's time to give every service-member electronic copies of medical and service records upon discharge. No more shortfalls - we'll fully fund VA health care. No more delays - we'll pass on-time budgets. No more means-testing - it's time to allow every veteran into the VA system.
I'm tired of hearing stories about vets navigating a broken VBA bureaucracy. We need to hire additional workers, and create an electronic system that is fully linked up to military records and the VA's health network. And I will have a simple principle for veterans sleeping on our streets: zero tolerance. I've fought for this in the Senate, and as President I'll expand housing vouchers, and launch a new supportive services housing program to prevent at-risk veterans and their families from sliding into homelessness.
Finally, we need to make sure that every veteran has the same opportunity that my grandfather had under the GI Bill. That's why I'm proud to co-sponsor Jim Webb's GI Bill for the 21st century. It's time to make sure that every veteran has the support they need to get an education that puts them on a pathway to their dreams. It's past time that Congress passed this bill.
America stood by my grandfather when he took off the uniform, and it never left his side. I will never forget the day that we laid him to rest. In a cemetery lined with the graves of Americans who have sacrificed for our country, we heard the solemn notes of Taps and the crack of guns fired in salute; we watched as a folded flag was handed to our family and the coffin was lowered into that hallowed ground. It was a final act of a nation's service to Stanley Dunham in return for his service to America.
We must always remember that we honor our highest ideals by honoring the men and women who have sacrificed for those ideals. That is the work that lies before us, and that is what I will do every day as Commander-in-Chief. I will have no greater calling than standing by those who have answered our country's call.
Barack Obama, Remarks at a Town Hall Meeting with Veterans and Military Families in Washington, Pennsylvania Online by Gerhard Peters and John T. Woolley, The American Presidency Project https://www.presidency.ucsb.edu/node/277521