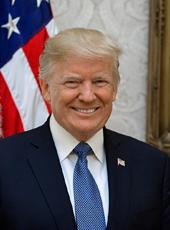 Remarks at the White House Easter Egg Roll and an Exchange With Reporters
The President. Oh, it's a beautiful day. This is a beautiful day. Welcome to the 2019 White House Easter Egg Roll. This is 141 years that we've been doing this. I don't remember the first one. But we're—the last 3 years, we've had an awfully good time.
And I have to thank our First Lady. She worked so hard on this event. And without her, it would not be like it is. It's as beautiful as I've ever seen it. So, Melania, thank you very much. Fantastic job. Thank you, honey.
I also want to thank the White House Historical Association for the incredible job they do. They work with the First Lady and all of us on just making the White House and keeping the White House a special place. It is, to me, the most special place. There can't be anything like it. And we take it, really, very seriously. And it's in great shape, that I can tell you. It's in great shape.
Also, our incredible Marine Corps Band. Thank you very much. Beautiful. Wouldn't be the same without you.
And a group of people that do a wonderful job. I love them. I know they like me too. [Laughter] It's the egg farmers of this country. The egg farmers. And they brought thousands and thousands of eggs. I don't know if you can use them all, but I have a feeling, with these young, very ambitious children, they're going to find a reason. They'll be gone. They'll all be gone.
And maybe most importantly, I want to wish everybody a very happy Easter. Our country is doing fantastically well. Probably the best it's ever done, economically. We're setting records on stock markets. We're setting records with jobs, and unemployment numbers are the lowest they've ever been—50 years. And many groups in—historically, the lowest numbers we've ever had. Regulations, low taxes. Our country has never done better.
And do we love our military. Our military is building—is literally being completely rebuilt. We are completely rebuilding our military. It was very depleted, as you know. A lot of the military folks can tell you. And it is being rebuilt to a level that we have never seen before, all with great product, the best product in the world. And you know where it's made? In the U.S.A. That's where it's made. It's all made right here.
So, again, happy Easter. Enjoy yourselves. And I'm coming down right now to be with you. The First Lady is coming with me. And maybe I'll get this great Easter Bunny to come with us.
Thank you very much, everybody. Happy Easter. Thank you. Thank you very much.
[At this point, the President and the First Lady participated in a walk-through of the event, during which they posed for photographs, greeted attendees, blew whistles to start the Easter Egg Roll, helped the children of deployed U.S. servicemembers create cards for their parents, and signed autographs. The President then responded to questions from reporters as follows.] Terrorist Attacks in Sri Lanka
Q. Mr. President, your reaction to the Easter massacre in Sri Lanka, please?
The President. It's a terrible, terrible thing. Unthinkable. I've been fighting it for a long time. A lot of people have. A lot of people don't want to talk about it. It's a terrible thing. I just spoke with the Prime Minister. I spoke with the—various Government officials, and we are working with Sri Lanka. But that's a terrible thing. Thank you.
Investigation Into Russia's Interference in 2016 Presidential Election
Q. Are you worried that your staff was ignoring your orders as the Mueller report was released?
The President. Nobody disobeys my orders.
Impeachment
Q. Are you worried about impeachment, Mr. President?
The President. Not even a little bit.
[The President continued to greet attendees and then departed the event.]
NOTE: The President spoke at 11:01 a.m. on the South Lawn at the White House. In his remarks, he referred to Prime Minister Ranil Wickremesinghe of Sri Lanka. A reporter referred to Department of Justice Special Counsel Robert S. Mueller III.
Donald J. Trump, Remarks at the White House Easter Egg Roll and an Exchange With Reporters Online by Gerhard Peters and John T. Woolley, The American Presidency Project https://www.presidency.ucsb.edu/node/333470