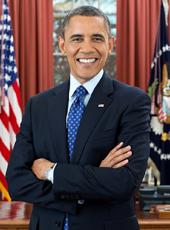 Remarks at the White House Easter Egg Roll
The President. Miss Jessica Sanchez, everybody! Give her a big round of applause. Kid President—give Kid President a big round of applause. The Easter Bunny is here. Give Easter Bunny a big round of applause.
It is wonderful to see all of you. And I just want to say welcome. You guys brought the great weather. It was a little shaky this morning, but all of you did a great job sending a message upstairs, and now we've got beautiful weather.
And I now want to introduce the star of the Obama family, my wife, the First Lady, Michelle Obama.
The First Lady. Thank you, Mr. President. Thank you, Kid President, Robbie Novak. Isn't he wonderful? Robbie, we're so proud to have you here. You have been so inspiring. I can't imagine that there's anyone who hasn't seen your video, right? You make us all want to work hard and be better. That's right. So you're going to spend a little time in the Oval Office just fixing things up for this President, aren't you? All right, well, it's good to have you here.
And it's great to have everyone here this morning. We are so excited. The Easter egg roll is the biggest event that we have here on the South Lawn of the White House each year. Today we're going to have more than 30,000 people who will pass through this yard in celebration of nutrition and health and activity. And we could not do this if it were not for all of our wonderful volunteers, our staff, all of the terrific performers and athletes who have taken time out of their lives and their busy days to make this important. So we need to give all of them a round of applause for all their hard work. Yes, indeed!
So today we want you to have a great time. We want you to run around. We want you to go over and see the White House Garden. We want you to learn about making tasty, healthy food. We're going to come down and do some Easter egg roll. We're going to read some stories. But overall, we want you guys to have a good time and keep moving and be healthy. And, kids, eat your vegetables, okay?
All right, you all, take care. We'll see you down there. Bye-bye. Thank you.
NOTE: The President spoke at 10:48 a.m. from the South Portico at the White House. In his remarks, he referred to musician Jessica Sanchez, who sang the National Anthem. The transcript released by the Office of the Press Secretary also included the remarks of the First Lady.
Barack Obama, Remarks at the White House Easter Egg Roll Online by Gerhard Peters and John T. Woolley, The American Presidency Project https://www.presidency.ucsb.edu/node/303670