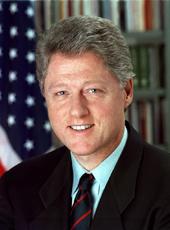 Remarks at the White House Easter Egg Roll
Thank you very much, and good morning. I'm so glad to see such a wonderful crowd all over the South Lawn, all the way back to the back. I want to also say, as Hillary did, that even though this is our last White House Easter egg roll, and we will miss it very much, we have enjoyed it.
Today Melinda Bates, the Director of our Visitors Office, who's done so much on this over the years, told me that Hillary and I are the only First Couple ever to do this all 8 years we were here. And I think it's because we had more fun than the children did here.
I just want to thank those of you who have had anything to do with this Easter egg roll. I want to thank especially the 500 volunteers. And I'd like to say that this is the first time we've ever broadcast the Easter egg roll in cyberspace, so there will be more children in classrooms and homes and libraries across America watching this Easter egg roll today than have attended it in the previous 122 years of the White House Easter egg roll, thanks to the Internet. And we are delighted that that is so, as well.
I want to just reemphasize one thing that Hillary said. This year's activities feature reading, and they feature the theory that it is fun. It's a part of our prescription for learning initiative that the First Lady launched 3 years ago, with the help of Scholastic Books. They bring together health care professionals, librarians, and others to show children how important and fun reading can be.
So I hope you enjoy that, along with the storytelling booths, the egg decorating. There are even some costume characters around here, appearing as some of our greatest Presidents. I hope you recognize them.
Finally, let me say it's time to blow the whistle to start another Easter egg roll. And before I do, I want to thank our master of ceremonies, Bernie Fairbanks, and ask him to come up here. He's right behind me. And I want you to know something about this man. As nearly as I can figure, he's been here for almost half of the Easter egg rolls. He has joined me every year, but he's been attending the Easter egg roll since Franklin Roosevelt was the President of the United States.
So before I start this, Bernie, I want to give you a special Easter egg roll 2000 whistle with your name on it, for Hillary and me. Thanks for the 8 years we've shared with you. And now that you're once again going to have seniority over us, I want you to think of us when you blow this whistle. Thank you.
So we're going to do this together, right? I want you to do it with me. Now where are they—are they ready over there? Wave your hand if you're ready. All right.
On your mark, get set——
[At this point, the whistle blew, starting the White House Easter egg roll.]
NOTE: The President spoke approximately 10:27 a.m. on the South Lawn at the White House. The transcript released by the Office of the Press Secretary also included the remarks of the First Lady.
William J. Clinton, Remarks at the White House Easter Egg Roll Online by Gerhard Peters and John T. Woolley, The American Presidency Project https://www.presidency.ucsb.edu/node/226950