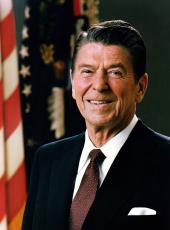 Remarks at the Welcoming Ceremony for Prime Minister Rajiv Gandhi of India
The President. Mr. Prime Minister, Nancy and I take great pleasure in welcoming you and Mrs. Gandhi to the White House today.
In 1949 your grandfather, Prime Minister Nehru, visited the United States on what he termed a voyage of discovery. He said that, "Though we may know the history and something of the culture of our respective countries, what is required is a true understanding and appreciation of each other." Well, Prime Minister, your visit marks a continuation of that process of mutual discovery.
Today we celebrate the depth and vitality of the ties between our nations. We Americans place great value on India's friendship. Our shared democratic ideals serve as a bridge between us. Our cultural differences enrich our relationship. Our mutual commitment to the freedom and dignity of man set us on a different road, a higher road than governments which deny the human rights so cherished by our peoples.
Mr. Prime Minister, on this, your own voyage of discovery, you will find a deep well of affection and respect for India and its people. You will sense America's admiration for India's strength in overcoming adversities and a heartfelt sympathy for the tragedy that you've personally suffered. You will also discover that the United States remains steadfastly dedicated to India's unity and that we firmly oppose those who would undermine it.
Mr. Prime Minister, you'll find that we respect India's nonalignment and recognize the pivotal role your country plays in south Asia. We're supportive of your efforts and those of others in south Asia to overcome past animosities in seeking stability, security, and cooperation in the region.
Mr. Prime Minister, our peoples have much to gain from one another. Enthusiasm for the growing potential of our commercial and economic relations is evident here. Expanding cultural, scientific, and educational exchanges will also be a great boon to both our peoples.
Our countries have areas of disagreement, yet these are opportunities to prove our mutual good will by discussing our differences forthrightly. We do so with confidence because we're convinced that our fundamental areas of agreement far outweigh the differences of the moment.
This understanding gives us reason for optimism about the future of our relations. Your stay with us will also provide us a better understanding of you, Mr. Prime Minister. Americans are impressed with what they've seen; your leadership and your idealism are inspiring. We're eager to learn more of your vision for India's future.
I've been impressed with your efforts to invigorate India's economy. In much of the developing world, people are moving away from redistribution and state control-methods that have brought only a scarcity and suffering. New and more successful models for development focus on incentives rather than controls; on production rather than redistribution. And here in the United States, we found that reducing tax rates has been the most important factor in the progress we've made. And we have every reason to look to the future with confidence and optimism.
Just as current technology overcame past problems, new technologies will provide solutions to maladies which today seem insurmountable. Free people, free minds, and free markets will develop innovations which will ensure a more prosperous and peaceful tomorrow. The people of the United States look forward to working with India in building a better tomorrow.
Three years ago, when the late Prime Minister Indira Gandhi and I met here, we agreed that a Festival of India would advance America's knowledge of India's heritage and achievements. You will inaugurate that festival, now dedicated to your mother's memory, during your visit here this week. This is an auspicious year for such a festival. As you know, it has been dubbed the Year of India in recognition of a resurgent American interest in India's culture and history.
I look forward to our talks, for I'm sure that, as with our predecessors, we, too, will be enriched by the exchange. This is an opportunity to broaden the understanding and deepen the cooperation between our countries and to advance the cause of peace in your region and in the world.
Mr. Prime Minister, on behalf of all Americans, welcome to the United States.
The Prime Minister. Mr. President, Sonia and I are honored and delighted to be here. I bring you, to Mrs. Reagan, and to the warm-hearted people of the United States the Indian peoples' greetings and friendship. Millions of Indian eyes are focused on this spot today, leaping over oceans and continents.
Three years ago, welcoming Indira Gandhi, my predecessor, my mother, on this very stretch of green, you remarked so truly that our two people, with all their differences, have much in common. Yes, there are differences, but rising above them are the beliefs we share in common—in the supremacy of freedom, in the necessity of equality, in the sovereignty of the people's will.
As I flew in here I saw, in passing, the memorial to Thomas Jefferson, who proclaimed in simple and stirring words that all men are created equal and independent. Behind me is a house which has been the home of eminent men who have symbolized your nation's dreams and its drive to greatness. One of them, Abraham Lincoln, said that a nation cannot be half slave and half free and that a house divided against itself cannot stand. The best minds of our age tell us that a world divided against itself cannot endure.
It should be the task of all of us who hold responsibility for other people's lives to recognize what life and its continuance demand in this hate-filled, violence-prone world of ours. The inevitability of coexistence must propel us towards the imperative of cooperation.
The United States and India have been developing a tradition of working together. If my visit strengthens that tradition, it will have given further substance to what is in any case one of the most important and one of the most pleasantly rewarding of journeys. I look forward, in particular, to my talks with you, Mr. President. We know of your lifelong feeling for India and look forward to welcoming you there.
From this week, a Festival of India opens here in Washington; several other cities will soon join in it. The Festival portrays India's aspirations, achievements, and ancient living heritage. I hope that it will enable the people of the United States to understand what we are, why we are so, and how the Indian civilization has endured for 5,000 years. The purpose of the Festival is to secure greater understanding and, with it, greater friendship from the American people, who have, themselves, built a dynamic civilization.
It was a great act of imagination and constructiveness when you and our late Prime Minister decided we should try to develop a better grasp of each other through the medium of culture. I am sure it will provide a story for developing an understanding and cooperation in other fields.
Thank you again, Mr. President, for your welcome and for the opportunity for this renewal of our dialog.
Note: The President spoke at 10:08 a.m. at the South Portico of the White House, where the Prime Minister was accorded a formal welcome with full military honors. Following the ceremony, the President and the Prime Minister met in the Oval Office.
Ronald Reagan, Remarks at the Welcoming Ceremony for Prime Minister Rajiv Gandhi of India Online by Gerhard Peters and John T. Woolley, The American Presidency Project https://www.presidency.ucsb.edu/node/260272