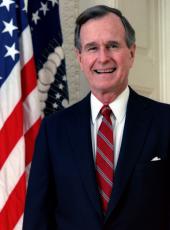 Remarks at the Welcoming Ceremony for Prime Minister Poul Schluter of Denmark in Kennebunkport, Maine
The President. Well, Barbara and I just want to welcome Prime Minister Poul Schluter and Mrs. Schluter to Kennebunkport on what is a private visit. But this visit will give us an opportunity to discuss a lot of issues. I think the Prime Minister would agree with me that there are fascinating changes taking place in Europe, changes that he might not have even predicted when he became Prime Minister, and certainly changes so fast that I couldn't have predicted them just 7 months ago, when I became President of the United States.
But this visit is a private visit. I hope it's one of many opportunities to see my old, close friend again while I'm President. And I just want to say that the relationship between Denmark and the United States is first-class, strong in every way. This Prime Minister has our great respect and admiration. And welcome to Maine, sir! And it's so great to see you again and such a pleasure to meet Mrs. Schluter.
The Prime Minister. Thank you very much.
The President. You get equal time.
The Prime Minister. Thank you. Mr. President, Mrs. Bush, my wife and I are delighted and honored to be with you today. We think it is fantastic that you undertake to find time to be our hosts at this beautiful spot in the United States. I take it as a token of good relations between the President and myself, and certainly also as a very nice gesture to my country, Denmark. We have good relations. I understand we shall have a nice time here today, but we shall also find time to discuss politics; we can't avoid that.
The President. No.
The Prime Minister. And as you so rightfully said, Mr. President, we are seeing right now very positive and exciting international development, and we must stay close together with the purpose -- to even better it in the time ahead of us. Thank you, Mr. President.
Q. Will you discuss the problem of drugs, Mr. President?
The President. Can we get a picture here? We'll discuss anything he wants to, and certainly that's one we will discuss -- antinarcotics effort.
Q. Mr. President, with the Government in Poland, Mr. President, is it time yet to consider additional aid to Poland? With this fast change you're talking about, do you intend to accelerate plans to -- --
The President. We'll be talking about all these issues here today. Thank you.
Now, welcome. Come everybody.
The Prime Minister. Thank you.
Note: The President spoke at 11:34 a.m. at Walker's Point.
George Bush, Remarks at the Welcoming Ceremony for Prime Minister Poul Schluter of Denmark in Kennebunkport, Maine Online by Gerhard Peters and John T. Woolley, The American Presidency Project https://www.presidency.ucsb.edu/node/263525